+4
EXPAND-IT™ Straight Shaft Trimmer Attachment
Model: #RYSST44
+4
The RYOBI Expand-It™ Straight Shaft String Trimmer Attachment works with any of the RYOBI power heads. Whether you prefer 2 Cycle or 4 Cycle gas, cordless or electric power, quickly attach the straight shaft trimmer to the bottom of your power head. The Straight Shaft attachment, backed by a RYOBI 3 year warranty, is perfect for trimming under benches and shrubs, around obstacles, and in hard to reach places. Save time, save money, save space.
Features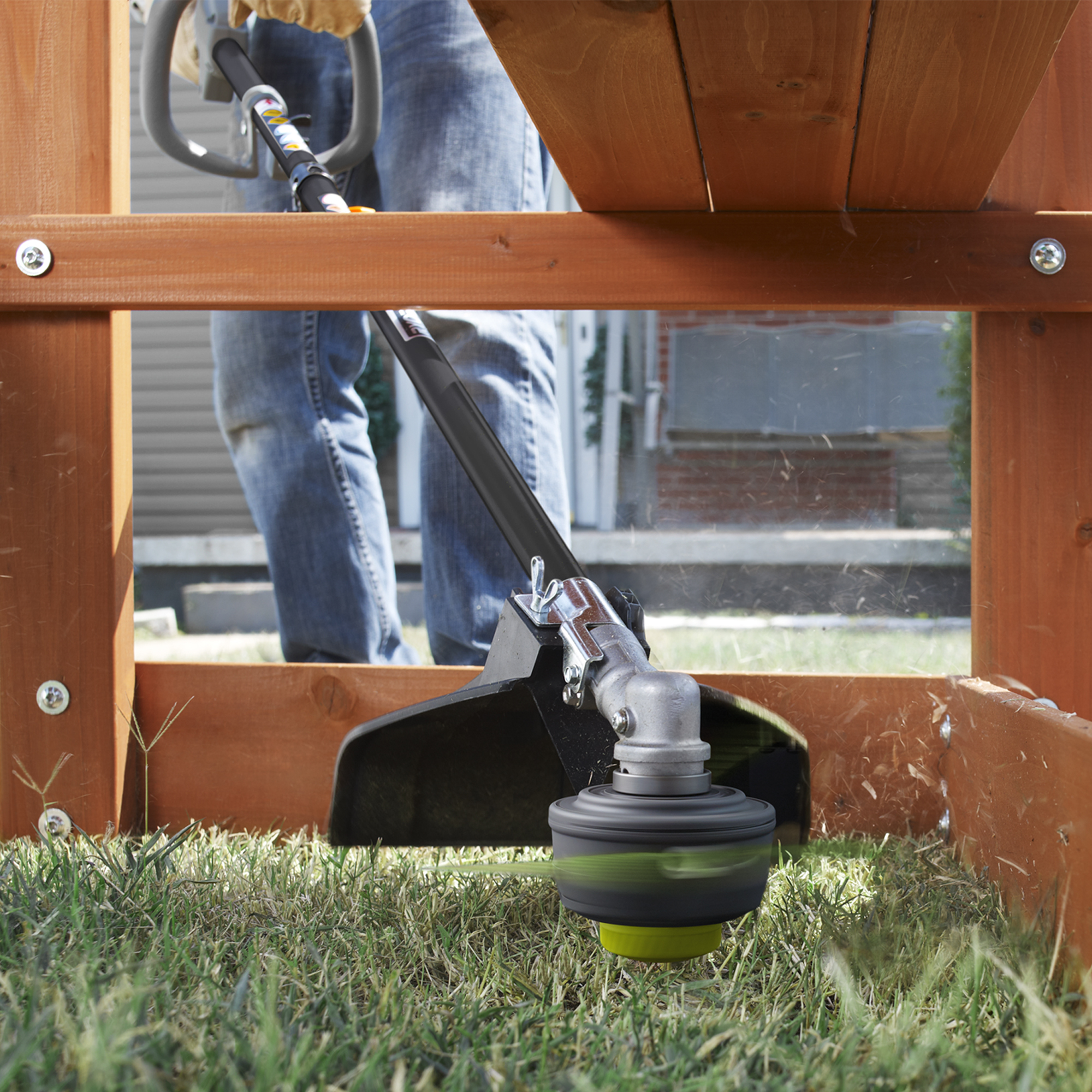 18 in. cutting width with .080 in. dual line
Universal Brand Fit
Straight shaft for extended reach
Includes bump feed string head
Requires no tools or adapters
*Powerhead sold separately*
Specifications
Cutting Path: 18 in cutting swath
String Diameter: .080 in. dual line Weight: 3.5 lbs.
Line Advancement: Bump Feed
Attachment Coupler: universal attachment coupler
Includes
Straight Shaft String Trimmer
Attachment Securing Cap
Operator's Manual
Reviews
EXPAND-IT™ Straight Shaft Trimmer Attachment
EXPAND-IT Straight Shaft Trimmer Attachment
is rated out of
5
by
565
.
Rated

5

out of

5
by
PeeJayEff
from
Essential Tool in my Acreage Arsenal!
Love this Ryobi Straight Shaft Trimmer Attachment AND the entire EXPAND-IT System! We have two acres of mixed vegetation (200 yr old cedars to blackberries and Wild Rose to assorted wild grasses) and the Straight Shaft Trimmer allows me to get all the areas my mower can't (i.e. Fence lines, flower bed edges, and around the perimeter of large trees, the sundeck and woodshed). I use the Brush Cutter and Pole Saw attachments for larger gauge vegetation. My Straight shaft trimmer teamed up with my other Ryobi EXPAND-IT attachments make taking care of our beautiful piece of property a joy. The right tool for the job! Super happy after many uses.
Date published: 2020-05-02
Rated

1

out of

5
by
Nick1969
from
Waste of money & time.
Since we had two of the power heads, we decided to get this trimmer attachment to use on our acreage. Don't bother. After going through around 8 spools of trimmer line, in less than a month, the Spool retainer WORE OUT. Of course, by the time we got back to Home Depot, 32 days later, the 30 day return period so we were stuck with it. After some searching, we found a replacement for it, at $28 each. On top of that, the trim string jams up on the spool, and you have to stop, take it a part and restring it. Lesson learned. I won't get into the 20 minute life span of their hedge trimmer attachment...
Date published: 2019-08-15
Rated

4

out of

5
by
Nt_98
from
Ryobi Expand It series
I purchased the straight shaft trimmer several months back, knowing that my electric trimmer was also getting ready to meet its end, figuring I'd purchase the edger attachment when the time came. The time came today so I went and picked up the edger attachment today. I can't believe what a different going from electric to gas powered equipment makes. I finished edging both of my driveways, the walkway and the patio around our pool in under 15 minutes. This would have taken me 30-45 minutes before. I know I've only used the edger once but so far so good. With regard to the straight shaft trimmer...one season in and I so far I have zero complaints.
Date published: 2020-07-25
Rated

4

out of

5
by
Mike042
from
Best choice for lawn care
I have about an acre of lawn to care for about 1/2 of it is fenced in the middle so I needed a gas powered trimmer. It snows here, just enough to make me revisit a snow thrower. My wife likes gardening but not the tilling part. I like leaves on trees, not so much when I have to rake them. So I bought this powerhead, and the trimmer attachment. My budget for just the trimmer was a couple of hundred dollars. The price of the two left money in the budget for a tiller head and leaf blower. I have used the powerhead and trimmer for a month now. Very easy to use, very decent quality and hard working. Something I expect from Ryobi tools.
Date published: 2019-04-15
Rated

5

out of

5
by
xHazmaT1436x
from
Versatility at its Best
After almost a month of ownership and usage, I have to say this straight shaft trimmer worked wonders. I had to test it in a 8 - 10 sq. ft. patch of 2-feet high grass on avg. What impressed me was the fact it was not spitting grass and other projectile (specially at my face) during operation - unlike my previous trimmer. Aside from that, from the amount of grass it had to trim down in that patch, aside from the rest of the yard, the the underside of the plastic shield maintained itself relatively clean. The trimmer line, while under operation, was very easy to manipulate its release as well. Very satisfied!!!
Date published: 2017-04-14
Rated

5

out of

5
by
KCJakeMO
from
I'm sold on Ryobi!
This was my first Ryobi tool. I bought the 2 cycle gas Expand it motor and the straight trimmer attachment. Tomorrow, I'm headed to the hardware store to get the blower attachment and later this year, the snow removal tool and a pole saw attachment. My ONLY complaint about the setup is the gas tank cap is too small for the stupid safety gas cans. Other than that, the trimmer worked fantastic! Fast and easy feed for the trim line, was setup, easy start, easy to swap attachments. Amazing product and I'll NEVER own another overpriced "orange" trimmer again. This accomplished the exact same thing, but, with MUCH more versatility given the amount of attachments available!
Date published: 2018-07-22
Rated

3

out of

5
by
Bronco Bill
from
Too heavy, too long
I bought this awhile ago to replace a Ryobi string trimmer I had with a curved shaft. The new one had tons of power, but was unwieldy to use. I don't need a trimmer for clearing the back 40, I needed one for some lower power work around the sidewalk and trees.
Date published: 2021-11-05
Rated

5

out of

5
by
Krustybucket
from
Homework
Ryobi must be listening to its customers. I have owned numerous string trimmers.This trimmer is by far the best yet ! Speed loader??? come on man that thing is awesome !!
Date published: 2021-11-05