40V 5AH LITHIUM-ION BATTERY
Model: #OP4050A
Compatible with all RYOBI 40V Lithium tools and chargers, the 40V 5.0 AH Lithium-ion Battery is the perfect addition to your RYOBI 40V tool collection. It's lithium-ion cells deliver fade-free performance from start to finish. The convenient on-board battery life indicator keeps you informed while you're out in the yard tackling your landscaping jobs. The 40V 5.0 AH Lithium-ion Battery's extra cell capacity is perfect for higher output tools like 40V mowers, blowers and chain saws. RYOBI 40V Lithium surrenders nothing but gas.
Features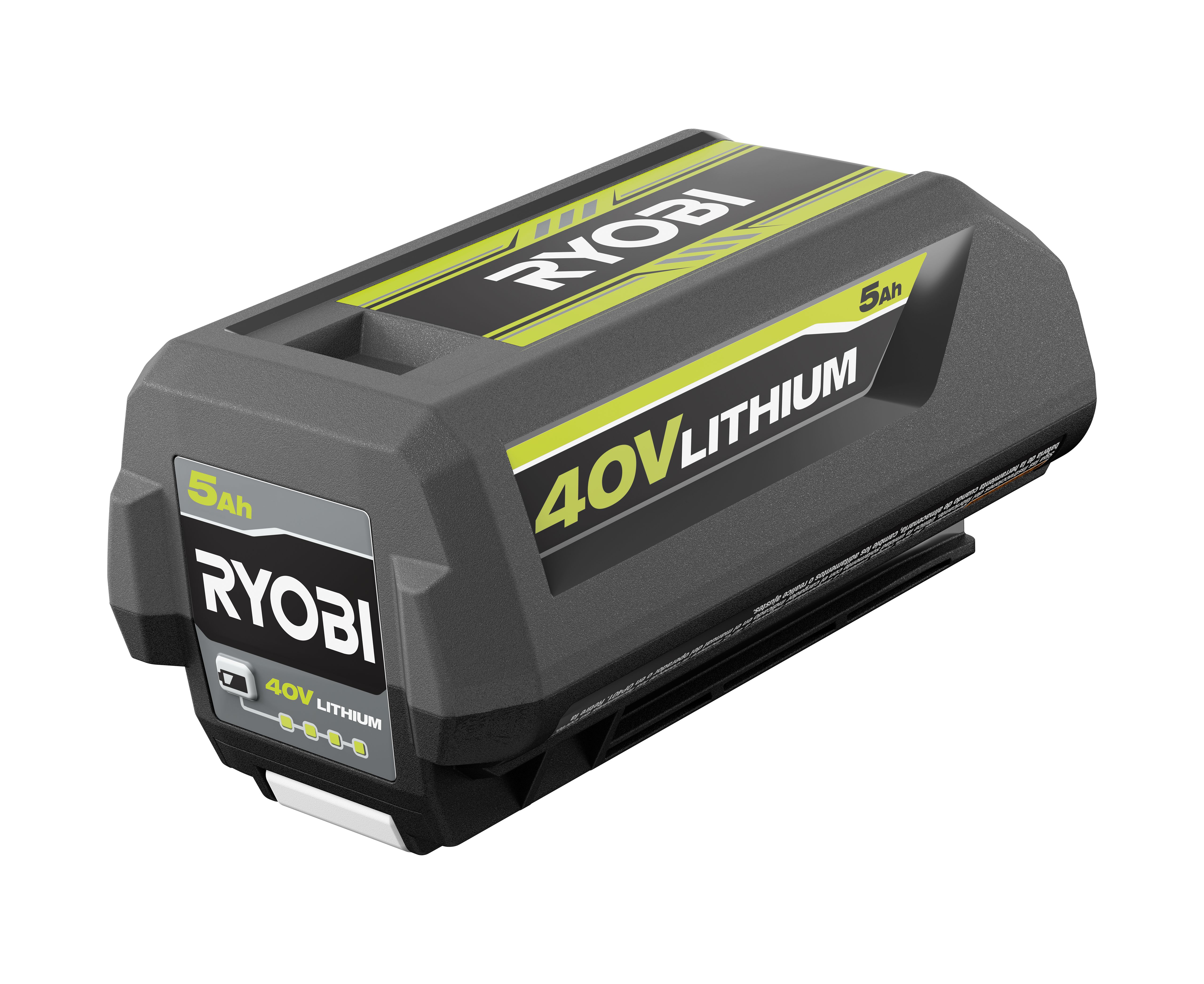 Compatible with All RYOBI 40V Lithium Tools & Chargers
Lithium-ion Cells Deliver Fade-Free Performance
On-board Battery Life Indicator for User Convenience
5.0 AH High Capacity: Ideal for 40V Blowers, Mowers and Chain Saws
Specifications
Voltage: 40
Amp Hours: 5.0
Cell Type: Lithium-ion
Compatibility: All RYOBI 40V Lithium Tools & Chargers
Weight: 4 lbs.
Warranty: 3 Year Limited
Includes
40V 5.0 AH Lithium-ion Battery
Operator's Manual
Reviews
40V 5AH LITHIUM-ION BATTERY
40V 5AH BATTERY
is rated out of
5
by
539
.
Rated

5

out of

5
by
Tryn
from
Great run time
This came with my string trimmer it allows me to finish my yard with wase
Date published: 2023-05-12
Rated

1

out of

5
by
AmySLP
from
No 5Ah 40V fits my RYOBI mower
If your mower is more than 4 years old this battery will not fit and RYOBI offers no solution other than to purchase an updated mower. The WHOLE reason I purchased a battery-powered mower was to be more ecologically responsible. Placing a 4 year old mower in the landfill because there's no battery to fit it is counter-productive. Furious!
Date published: 2023-05-08
Rated

5

out of

5
by
blakester
from
Warranty
I got this as a gift and was able to register it for the 3yr warranty
Date published: 2023-05-03
Rated

3

out of

5
by
Torque
from
What happened?
Purchased and shipped several weeks ago. Used once and on first recharge the code read error. Currently waiting for the replacement.
Date published: 2023-05-01
Rated

3

out of

5
by
Papou
from
Battery too long
I purchased this battery OP40504 as a replacement for the Ryobi 40V 5Ah battery OP4050 which came with my Ryobi lawn mower. The new battery is physically longer than the original one, with the result that the lawn mower's battery cover doesn't close. I've contacted Ryobi for a solution and their only suggestion was to switch down to a 2 or 2.6Ah battery. I then checked out these batteries at Home Depot, but they are all the same length as the OP40504. A solution would be for Ryobi to provide a larger battery cover for my lawn mower, but that seems beyond their capabilities.
Date published: 2023-04-24
Rated

1

out of

5
by
19ama
from
very short life expectancy
I bought a lawnmower powered by this battery. The battery was charged about 15 times and is now defective. Tech support and chat at Ryobi is useless, essentially all they say is buy a new battery. Don't ever throw away a Ryobi receipt thinking that your product registration means anything. Ryobi shifts warranty parameters around you providing a copy of your receipt. The product registration means nothing.
Date published: 2023-04-17
Rated

2

out of

5
by
Al Rekamundo
from
Batteries too expensive !
Battery fails to accept charge after 3 &1/2 seasons of lawn mowing (only 6 months per summer here in Toronto) . Very expensive to replace. Replacement battery costs more than what I would be paying for gasoline & oil for my old gas mower. Battery fails shortly after warranty period expires.
Date published: 2023-04-15
Rated

2

out of

5
by
GRed
from
Beware Ryobi battery lifetime and replacement
I bought yet another 40V battery. The two previous ones stopped accepting a charge (a frequent problem with fixes found on-line). One of the batteries was replaced by Ryobi, but when it also failed I was told that the starting date for the 3 year warranty is only for the first battery, not for replacement batteries that fail.
Date published: 2023-04-03
Rated

5

out of

5
by
AJD123
from
Great power to weight
Came as part of a Shredder/Vac combo. Its easier to wear yourself out before the battery does!
Date published: 2023-03-15
Rated

4

out of

5
by
link10169
from
Great product, but way too expensive to replace
Happy with my purchase, but buying a battery alone is way overpriced.
Date published: 2023-03-06