+3
EXPAND-IT™ 10" PRUNER ATTACHMENT
Model: #RYPRN33
+3
The RYOBI Expand-It™ Pruner Universal Attachment can power through hard to reach limbs with its 10 inch bar and chain and extension shaft. This attachment, backed by a RYOBI 3 year warranty, connects easily to a RYOBI power head bringing versatility and ease to your yard work. With its automatic lubricator, the RYOBI Pruner makes clean, crisp cuts through tree limbs, dead branches, and thick shrubs. Save time, save money, save space.
Features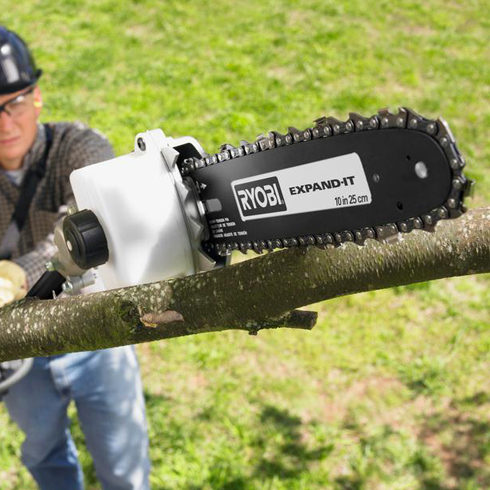 Universal Brand Fit
Includes Extension for up to 12 ft. of Reach
10 in. Bar and Chain
Automatic Oiler for Continuous Use
Requires no Tools or Adapters
Limited 3 Year Warranty
Specifications
Bar & Chain: 10 in.
Extension Shaft: 12 ft. reach
Lubricator: Automatic Oiler
Cut Capacity: 6 inch diameter
Weight: 6 lbs.
Includes
Expand-It Pruner Attachment
Scabbard
Combination Wrench
Extension Shaft
Shoulder Strap
Hanger Cap
Strap Hanger
Operator's Manual
Reviews
EXPAND-IT™ 10" PRUNER ATTACHMENT
EXPAND-IT 10" PRUNER ATTACHMENT
is rated out of
5
by
1198
.
Rated

5

out of

5
by
bigtrouble
from
Great addition to toolset
I use this and other Expand-It attachments on a Greenworks 80v powerhead. As long as I keep things tuned and sharpened, it'll cut through anything that the bar length allows it to cut. As other reviewers have noted, a single extension doesn't allow cutting very high. We have palm trees in Tampa Bay, which can get quite high, so I went on a search for another extension or two. I found one about 2' long on Ebay, which does help-but not a lot. I decided to look at Ryobi's site, where I found the 3' extensions that came in the original package are available for less than $20 from their parts vendor...so I have a couple more on the way!
Date published: 2018-05-03
Rated

3

out of

5
by
keith3267
from
Works fine, cuts good, but...
If you have never used a pole saw before, you might think it will reach those high limbs and you will be disappointed. The pole saw with the head unit is about 9' long so you may think that if you are 6' tall, you could reach a branch 15' up. Theoretically possible, but not likely. If you have it pointed straight up, then all the chips will fall on your face and shoulders and get under your shirt. About 30 degrees off vertical is about the maximum hight you would use this, so that gives you about 7.8' vertical use. Also you will find it heavy to hold at head height, chest height is more likely, about 4' from the ground, plus you have to subtract about 9" for the bar and chain so total reach will be about 11 feet. I also have an old 12" 40v Ryobi chain saw. That model had the battery on top of the motor (non-brushless) so it is easy to use one handed. The newer 18v and 40v chain saws to not have this feature and are difficult to use one handed. But with a ladder, I can easily cut branches that are out of range for this pole saw. Ryobi, consider this next redesign of your chainsaws.
Date published: 2021-11-06
Rated

5

out of

5
by
CliffM
from
I CAN FINALLY REACH THOSE HIGH BRANCHES!
Really impressed with this Pole Saw Attachment. The 40V battery pack adds so much power. Living in Hawaii, things are growing all the time and can get out of hand quickly. There are some trees that have grown out of my reach and using a ladder isn't always the best solution with our rocky terrain. I've been using chainsaws, but I can only reach so far. This Attachment makes everything much easier. I also purchased the Ryobi String Trimmer and Brush Cutter attachments. Thanks, Ryobi, for making a battery powered Expand It Kit with so much power (gas powered are too much of a hassle and working with a cord would not work on my rocky terrain).
Date published: 2018-09-24
Rated

4

out of

5
by
Littlefalls2010
from
Non commercial user
Have only had the chance to use this 3 times, however, I'm very pleased with the performance with the price I paid ($80 for the power head, $100 for the pole saw attachment). There isn't any jerking/yanking feeling when squeezing the trigger, it feels relatively balanced, starting is easy, the cuts are decent and as long as you know how to cut limbs there isn't any binding as the limbs fall. Be safe using this, don't just climb on a ladder and expect to chop down limbs on your own with this, make sure to you use guidelines to help direct line limbs to fall away from you, use your PPE, and a second set of hands/eyes never hurts
Date published: 2018-05-14
Rated

4

out of

5
by
Bluegoldwing
from
Wish I'd been able to use it!
I bought this EXPAND-IT tool in hopes of being able to trim some trees that are encroaching my roof. Unfortunately, the length of the pruner attachment shaft+the length of the extension shaft+the length of my Craftsman 4 cycle weed wacker shaft (probably @12 feet) was insufficient to reach even the lowest branch I needed to cut, standing on the ground! Being 75 years old and being unstable, I certainly not going to climb a ladder and wrestle the tool to cut the branches. it appears I need to either return the tool to the store or hire someone to do the cutting for me! The tree branches are already scraping the roof so, time is of the essence!
Date published: 2019-07-13
Rated

5

out of

5
by
McHandyMan
from
A Must Have Pruner!
I bought this pruner, along with the 25cc powerhead, and the hedge trimmer attachment. The Ryobi powerhead, combined with the pruner, and trimmer attachments, have enough power, and cutting "bite" to get the job done quickly, and efficiently. Changing out the attachments is easy, and together with each attachment, the whole tool is lightweight, and easy to handle. With the added extension rod, between the powerhead, and attachments, trimming high bushes, or pruning out of reach tree branches is effortless, and easy on your arms. Highly recommend all three. I plan on going back to the store, to purchase the string trimmer attachment too.
Date published: 2018-06-04
Rated

5

out of

5
by
sam72
from
Several Attachable tools
I bought this pole chain saw as I need to trim some trees that were to far to reach and did not want to use a ladder to reach them for safety. This saw allowed me to trim the higher limbs without endanger my self on a ladder. It uses a 40 volt battery that is the same type as the 40 volt 14 inch chain saw uses, so I can saw until the battery is depleted and use the other battery to keep on sawing while the first battery is on charge. Charges almost to quickly for me as I have to take a break from all the sawing. Also love the fact that I will be able to buy additional attachments for the Expand-it pole saw, such as the tiller, weed eater and etc.
Date published: 2019-02-07
Rated

4

out of

5
by
azRob
from
Works good so far ! Already paid for it self...
Bought this to cut up fallen Palo verde branch , roughly 6 inch diameter, and to trim branches from palms , willow acacia and Palo Verde trees. Worked quite well so far. Although I have only used it for a couple of hours so far. I have an older Ryobi Expand it base which is electric : model RY15122. 10AMP. Seems to have plenty of power for this saw. Nice tool to have for trimming and cutting up small branches. if this tool lasts as long as my other Ryobi products I will be very happy. Have not owned for long, Thats why I gave 3 stars for durabilty. Important to take the time to read the instructions carefully and follow safety recommendations.
Date published: 2019-07-23