+2
EXPAND-IT™ EDGER ATTACHMENT
Model: #RYEDG12
+2
Convert your string trimmer into an edger with the RYOBI Edger Expand-It™ universal attachment. Make precise cuts along your walkway or driveway with the RYOBI edger attachment. Simply connect the edger attachment to any of the RYOBI power heads, adjust your cutting depth, and begin adding the finishing touches to your yard work. Backed by a RYOBI 3 year warranty, the edger attachment helps you save time, save money, & save space.
Features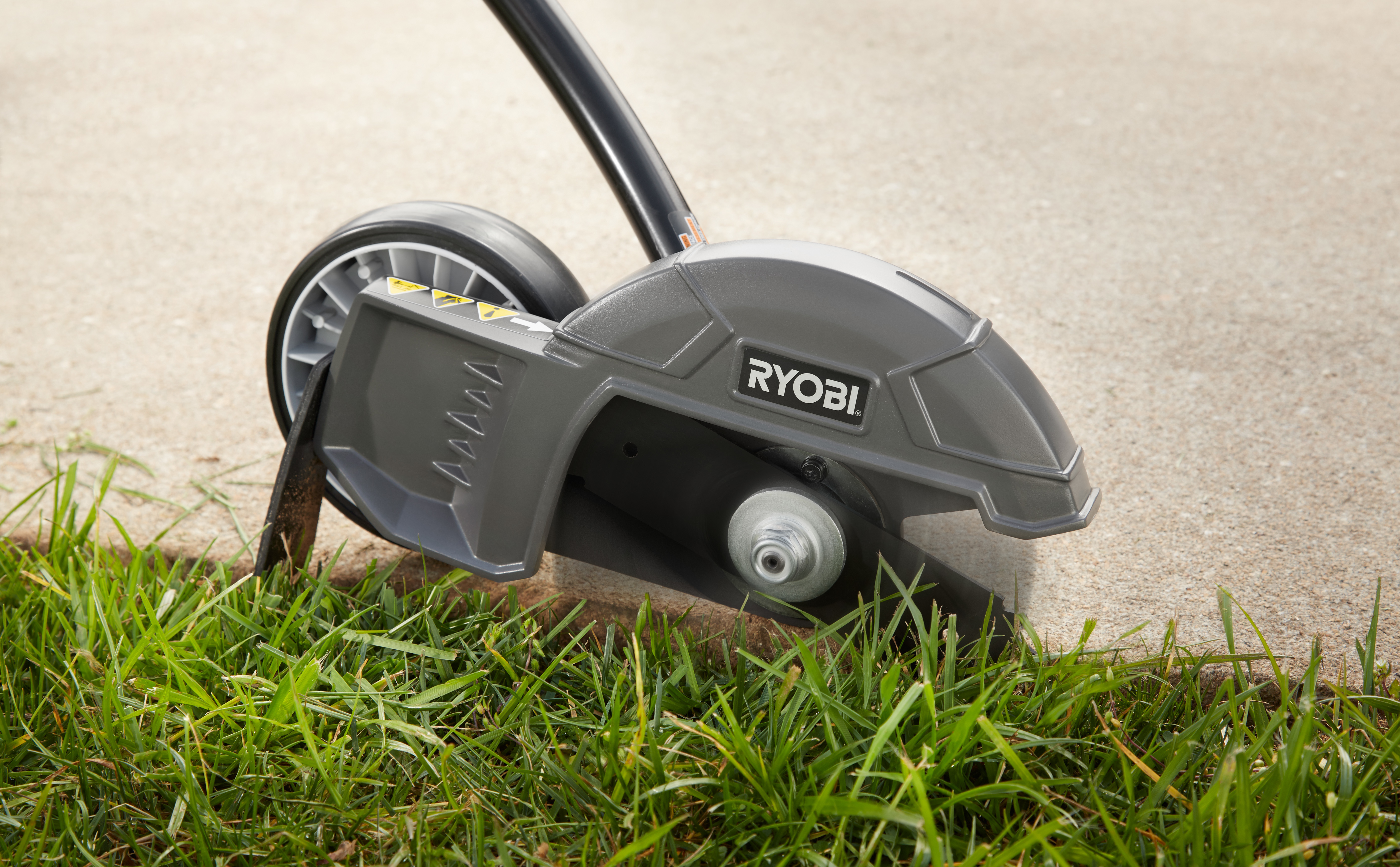 Large adjustable knob for quick and easy height adjustment
Universal Brand Fit
8in. dual serrated edge
Debris shield for safer operation
Requires no tools or adapters
3 Year Limited Warranty
*Powerhead sold separately*
Specifications
Blade length: 8 in.
Blade: Double Edge Steel
Weight: 4 lbs.
Universal: Yes
Maximum Cutting Depth: 6.5 in.
Includes
Expand-It™ Edger Attachment shaft
Edger Head
Hanger Cap
Holding Pin
Operator's Manual
Reviews
EXPAND-IT™ EDGER ATTACHMENT
EXPAND-IT™ EDGER ATTACHMENT
is rated out of
5
by
1518
.
Rated

3

out of

5
by
JohnnyJ
from
It's just oK.
I wanted an edger to get the groove for the yard more than just the trimmer. Since I already have several EXPAND-IT attachments that I love, I bought this as well. The first time I used it, the ground was too wet and the blade kept getting glogged with mud. The second time it worked much better. I found it hard to balance the edger & to keep the depth consistent. It was a little weak when cutting through the neighbors overgrowth onto the side walk. It took several passes. Now that the edge is established, I use the trimmer most of the time and I use this edger about once a month to maintain the sharp edges on the sidewalks and driveway.
Date published: 2018-10-12
Rated

5

out of

5
by
Green Zebra
from
40 volt system is awesome... no more gas & oil
I have gone all in on the 40 volt combo system. This edger attachment was the last piece of my yard maintenance gear. I already have the string trimmer, blower and hedge trimmer. I am amazed how well the edger cuts thru the grass and dirt. I can do my entire drive and pool patio area on one charge. That said, since I have 3 batteries, I always have a fully charged spare. Today I officially got rid of my corded hedge trimmer and 2 cycle gas trimmer... which always was a challenge if you let it sit. Getting rid of the gas, mix and extension cords was awesome. Thanks for creating this very powerful system of tools, it has allowed me to keep my 4 acre lot and pool area looking fine.
Date published: 2018-11-12
Rated

4

out of

5
by
Bkelvate
from
Why did I ever edge with a string trimmer?
I just got this last week and I love it! I thought the Exand-It system sounded great but I was holding out for a 40v brushless model. Boy am I glad it finally came out. I have the trimmer, edger, leaf blower, and hedge trimmer attachments. The edger did well but I kind of hindered myself by not turning off my watering system before coming home. The ground was really wet and the edger kept getting stopped up. So about every 20ft or so I had to use a flat scraper to dig the mud and grass out of it. The parts that were dry though the edger just tore through it no problem. In terms of negatives I'll have to use it a little more to find out what's a pain and what I get used to. It would be nice if it had a shoulder strap. Doing the trimming, edging, leaf blowing, and hedge trimming all in one day grew a little tiring. The attachment itself seems clunky. I wish it could just snap on and release more easily. But you have to loosen and tighten that handle and push in the little knob to remove and attach the pieces. One nice thing is due to the battery placement it's easy to stand upside down so you can use both hands to remove and add attachments. With the old model I feel like I'd be having to set it down on a flat surface constantly to do that. All-in-all the system seems great. I'm already planning out what attachments I want to get next (sweeper and snow-thrower before the end of the year and cultivator to garden next year). The power is there, I love the 40V platform, and the added reach of using the power handle with various attachments is great for a tall guy like myself. I really hope they add the option to purchase a single power handle though because it would be nice to have multiple power heads without having to get duplicate attachments.
Date published: 2018-06-04
Rated

4

out of

5
by
Alfontso
from
Does the job but needs a bit more torque.
I bought this as the next addition to my expansion program. The snow thrower and hedge trimmer are next. I found that the edger works fine as long as you keep away from sidewalk and driveway concrete. But these are areas that need edging. So the unit stalls when the soil is compacted against the solid stone area. It is not hitting the stone, just being stopped by the sold compression. Lift out, put down and soffit goes again in the same spot until it compresses material again. A bit disappointing so I went back to the string trimmer attachment. It works fine for edging the rest of the garden between the lawn and flower beds. Nothing to pack up against.
Date published: 2019-08-13
Rated

3

out of

5
by
Erick153
from
Hard to clean
I have now used this tool three times. The tool is easy to use and ready in monuments after taking it out of the packaging. My issues come later, after about 50' of usage dirt accoumulates and gets stuck in the shield. There is no easy way to clean this out. If you leave it, the tool starts to bind. I ended up using a flat tip screwdriver to dig the debris out and found the plastic is very stiff. I have easily gouged the inside of the shield and have yet to find a better way to clean the tool. Overall I really like this tool but I wish it was easier to clean.
Date published: 2018-10-31
Rated

3

out of

5
by
Bill5656
from
Great looking grass trim
As the title mentions, my grass edges have not looked better in years. I was using a weed wacker to trim my grass edges but it cut to wide and uneven. This took cuts very straight and it looks great. I rated it a 3 because the tool is not comfortable in my hands. The attachment is not strong unless I over tighten the screw bolt to keep it from turning while I work. Also, when I put the week wacker extension on, holding it at a 45 degree means I must put the engine close to my arm pit and the motor does heat up. The handle is also not placed well and carrying the machine is unbalanced. Lastly, I understand it is gas powered but leaking oil and gas when stored was unexpected.
Date published: 2018-10-17
Rated

5

out of

5
by
WolfZach
from
Unexpected greatness!
My wife bought me this some months back as the Ryobi 18v string trimmer was just doing an okay job of edging. My complaint about it was how much of the string I was going through. I bought the brushless 40v to power the edger attachment and put it together. Within minutes of having the battery charged, I was edging like a pro! Great power...easy to use...long battery life! What else could you ask for? I have been looking at what attachments to but next! My only request is to figure a way to lower the price of the 40v batteries! That may need to be my next purchase...as you always want a backup battery fully charged! This is a home run purchase for the DIY-era!
Date published: 2020-04-26
Rated

4

out of

5
by
TylerL
from
Great attachment
We recently bought a home that has over an acre of property and all had from the last home was a battery operated set of tools that just wasn't cutting it anymore...pun intended...so it was time for an upgrade. Switched back to gas with a Ryobi powerhead and found all of these great attachments. The Edger attachment does well for what it is. If I could make any recommendation would be to have added a guide. My last corded edger had a guide that keeps you on track. This could definitely use on. Maybe the next version. Other wise does the job intended. I just realized there is a photo section for reviews. Oh lord, Im gonna have my wife take action shots next week.
Date published: 2019-04-02