+4
EXPAND-IT™ CULTIVATOR ATTACHMENT
Model: #RYTIL66
+4
Keep your garden in its best shape with the RYOBI Cultivator Expand-It™ universal attachment. Aerate soil and remove weeds by simply connecting the tiller attachment to any of the RYOBI power heads. The 10 inch steel tines allow for easy tilling while the large shield provides protection to the user from debris. Be the talk of the neighborhood with the RYOBI Cultivator Expand-It universal attachment. Backed by a RYOBI 3 year warranty, the RYOBI Cultivator attachment helps you save time, save money, & save space.
Features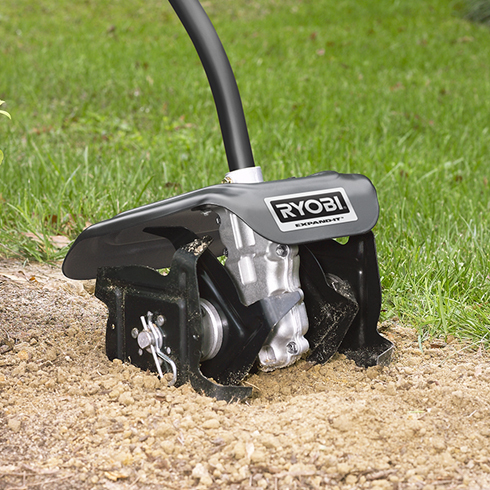 Universal brand fit
7 - 10 in. adjustable tilling width
Heavy-duty steel tines for easier tilling
Large shield provides protection from debris
Specifications
Power Source: 40V Battery Electric
Till Depth: 10 in.
Till Length: 20 in.
Number of Tines: 4
Weight: 30 lb
Includes
Cultivator Attachment
(4) Tines
J-Handle
Operator's Manual
Reviews
EXPAND-IT™ CULTIVATOR ATTACHMENT
EXPAND-IT™ CULTIVATOR ATTACHMENT
is rated out of
5
by
789
.
Rated

5

out of

5
by
D Wingate
from
The perfect size for a smaller person
I do my garden every year, and my husbands deployed and he or his uncle normally till it with a very heavy and clunky tiller. I just bought the 40 V set up two weeks ago and was so excited to see this attachments available .Even though he's halfway across the world he still got me a great gift for an early Mother's Day. The set up was easy took less than 10 minutes, it clicks on and you just go to work. The best part about this was I have box beds and I was able to fit it in to those. It is light, but will still give you a good workout. This is perfect and I'm so excited to use it every year after and not have to wait on someone.
Date published: 2019-04-19
Rated

4

out of

5
by
SMac85
from
Works well.
This little tiller works well! Does a nice job at breaking up the soil in smaller areas (if you're doing a really large area, you're probably better off renting a large rear-tine tiller to go at it). I'm not sure how well it would do to break up thick sod as I have not tried that. A word of advice if you are tilling in an area with rocks, like the limestone we have here in central Texas: Read the instructions and follow the directions for repositioning the tines for tilling in rocky soil. If you don't, you WILL get rocks jamming the tines, and they are devilishly difficult to remove. Avoid this pain and adjust the tines BEFORE you start tilling.
Date published: 2019-04-23
Rated

5

out of

5
by
bogoofygg
from
I love this tool!
I bought this tiller to till our garden we had made 3ft above ground. It was so easy to lift. (I am disabled due to back problems) and this was no problem at all. My wife wanted to try it but it just skipped over the dirt. It took me to show her that you have to "push" it into the dirt". Doesn't take much effort but you have to do it. This is the best our garden has looked since we had it made. we tried tilling it with hand tools but this just makes all the difference. It actually looks like the garden beds on TV with the soil looking purfect. We expect a perfect garden this year. Thanks Ryobi. you hit this one out of the park.
Date published: 2018-04-07
Rated

5

out of

5
by
DP86
from
Perfect for Small Garden
I bought this with Ryobi 40V powerhead along with the trimmer and edger attachments. I have a newly built house with VERY clay-heavy soil all over the property. My previous attempt to loosen a small patch of front landscape garden with a rake only ended with back pain and embarrassment among neighbors. Once I got the hang of using this cultivator attachment, loosening the dry clay soil was ridiculously easy. Even with the electric powerhead, the tiller didn't hesitate at all (well, except when I got a large rock bound between the tine and the guard...). I'm working on loosening the rest of the backyard soil so that the grass seeds will take for the spring.
Date published: 2017-01-03
Rated

1

out of

5
by
Tolk
from
Tines assembled wrong
I bought this unit Friday night with the hopes of using it Saturday afternoon. Upon assembly I found one of the inner tines was assembled backwards at the factory. So, I took the 60 mile round trip back to Home Depot and exchanged it for another unit. Once again upon assembly I found one of the inner tines to have been assembled wrong. I have no desire to take another trip back into town and exchange it once again for the last unit they have in stock which I will assume has the same issue. I'm just going to cut my losses grind/ press the rivets out of the tine, reassemble it correctly and see how well this thing actually works
Date published: 2019-06-16
Rated

4

out of

5
by
Eric S
from
Little tiller that could
I was a bit skeptical when I bought this at HD. I was thinking, "There is no way the battery will last." Well, I made it 3/4 ways through my garden and then the battery ran out of juice. I have back up batteries charging so not a big deal. The great impression I had was that the gardens had not been tilled yet this year so it had to not only till but break through the dirt for the first time. Now that I've tilled it once, it makes it through my entire garden on one battery. Just to let you know, my garden is about 3' out from my standard ranch house 3/4 ways around the outside. Two 4' x 10' beds and a 4' x 20' garden in the far back of lot.
Date published: 2018-07-08
Rated

2

out of

5
by
Mfcoleman33
from
Heavier then I thought
Worked well but was much heavier then I thought and it damaged, beyond repair actually, and currently need to get a trimmer as a result. In the area that it attaches it actually bent the metal connection point now preventing the part that turns the head or whatever attachment from connecting inside the shaft of the trimmer. Destroyed a brand new trimmer I purchased just 3 months ago. The attachment itself did work very well when used. Did more then what I thought and was a very nice attachment. However the design and where the weight positioned itself on the shaft was awful. Nice idea, terrible execution on Ryobi's part. Absolutely needs redesigned.
Date published: 2019-08-12
Rated

5

out of

5
by
mitou143
from
Simple, and Surprisingly powerful.
I bought this for my wife to use in the area of our backyard that she designated for her garden. This area was all sold at the start. The Ryobi tiller attachment made this a fairly simple job to complete. It was able to turn the grass and the Georgia clay that was hidden beneath the grass. It takes a little strength to use and control. She is petite so I took on the task. All in all I gave it 5 stars as it got the job done way easier than turning the grass manually. FYI the area tilled was about a 6x5 area. It took about 20 minutes or so. This included me stopping and removing chunks of grass, and embedded rocks left from construction. I would definitely recommend this attachment.
Date published: 2018-06-08