+13
115 AH 54" ZERO TURN ELECTRIC RIDING MOWER
Model: #RY48140
5 High-Powered Brushless Motors
Battery Operated: Quiet Cutting, No Gas, Fumes, Charge and Go
Zero CO Emissions
+13
CUTS UP TO 3.5 ACRES PER CHARGE
Features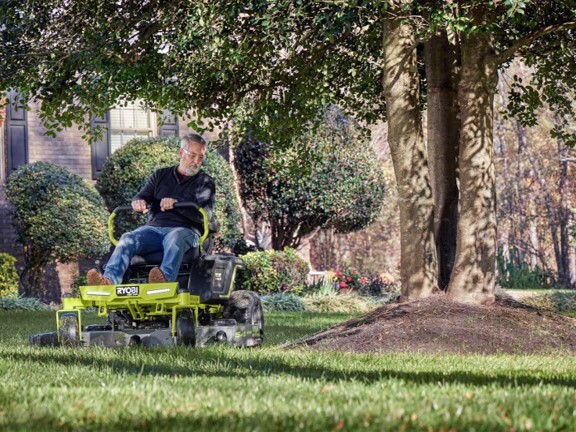 5 High-Powered Brushless Motors
For Ultimate Power and Efficiency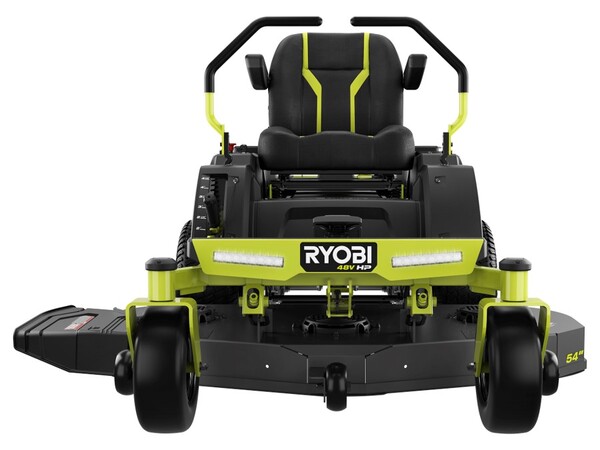 Low Maintenance
No Belts, Spark Plugs, or Filters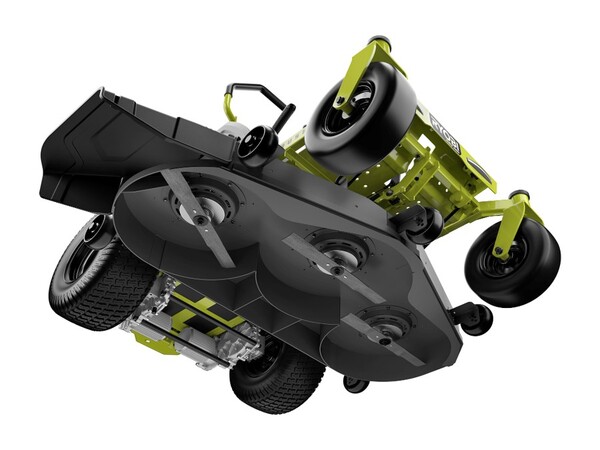 54 in. 10 Gauge Fabricated Steel Deck With 3 Precision Cut Steel Blades
For Durability and Clean Cuts Every Time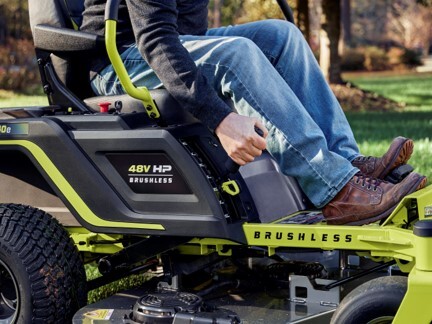 12 Position Deck Adjustments Ranging from 1.5"-4.5"
For Absolute Cut Height Control and Precision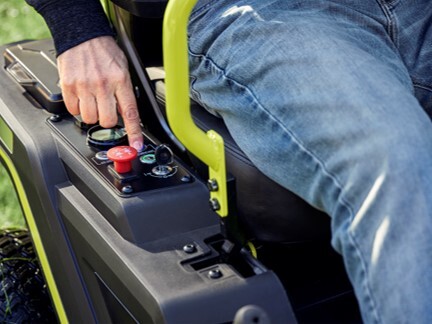 Armrests, Ergonomic Control Handles, 2 Cup Holders and Included Towing Hitch
For a Luxurious Mowing Experience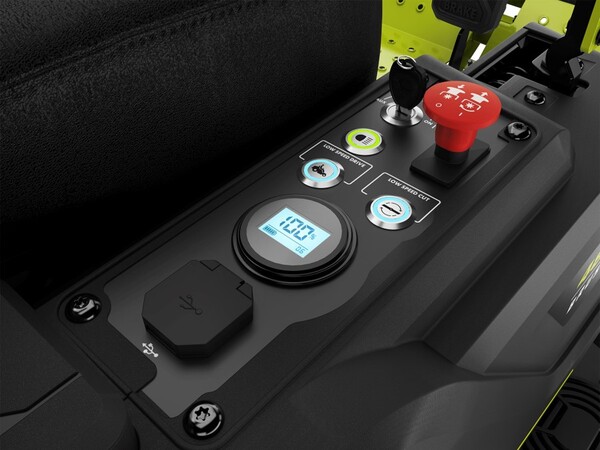 Advanced Control Panel
Includes a Slow Speed Option, Slow Blade Option, Reverse Mow, LED headlights, Battery Gauge, USB Charging Port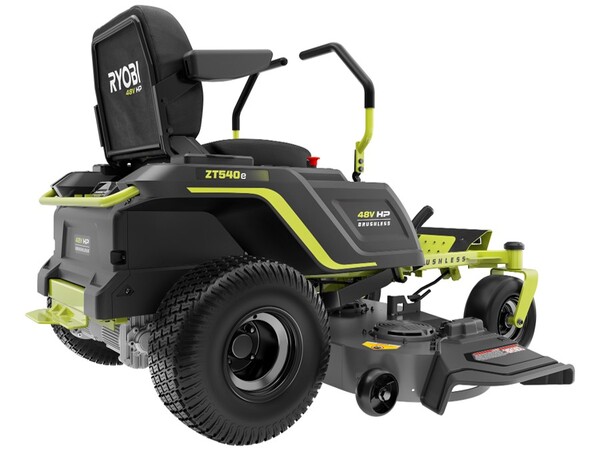 Side Discharge or Mulching
To Adapt To Whatever Your Project Requires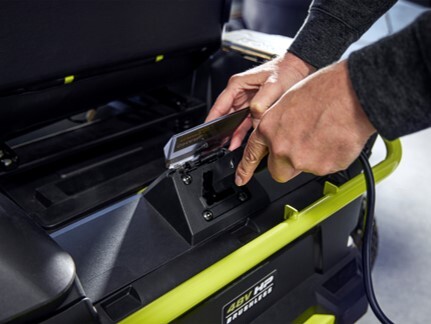 Easy Access Rear Charging Port
Charges Through Standard 120V Outlet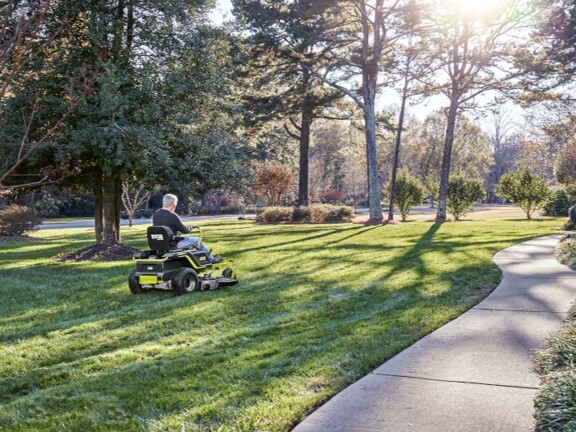 Zero CO Emissions
For a Clean, Green Experience Every Time
Specifications
Dimensions
Deck Size

54"

Cutting Height

1.5"-4.5"

Weight

796 lbs.
Details
Battery

48V 115Ah

Charging

Standard 120V Outlet

Cutting Area per Charge

Up to 3.5 Acres

Deck Height Adjustments

12 Position Manual Adjustment

Max Speed

7 mph

Replacement Battery

Leoch Model LDC12-115
Warranty
Warranty

3 Year Tool Warranty and 1 Year Battery Warranty
Includes
48V Zero Turn Electric Riding Mower with 115Ah Battery
[#<ProductFeature id: 4498, title: nil, content: "48V Zero Turn Electric Riding Mower with 115Ah Bat...", photo: "a2cd3af9-a182-4b86-a5a3-ddf4fc58c9dc.png", created_at: "2021-02-16 21:21:34", updated_at: "2021-02-16 21:26:23", product_id: 1653, sort: 0, enhanced_type: "included_item", enhanced_group: nil, enhanced_icon: nil>]
Reviews
115 AH 54" ZERO TURN ELECTRIC RIDING MOWER
54" 115 AH ZERO TURN ELECTRIC RIDING MOWER
is rated out of
5
by
35
.
Rated

2

out of

5
by
Gabriel L
from
Was great but not now!
I bought this mower about 14 months ago. It was great at first. I used to be able to mow the entire yard and then grab my yard cart and do a bunch more work. Now the battery doesn't last 1/3 of my yard. I understand how electronics work and batteries work. I can not get a simple answer as to what battery I need for a replacement replacement. I can't find a the specific battery and I've ordered 2 different ones from the internet (neither one works). I can't get help from home depot or Roybi. I feel I shouldn't have to buy a battery after such a short time anyway, but to make it extremely difficult to find a replacement, is unacceptable. I used to love this company and their tools, but after this I doubt I'll spend another dime on them.
Date published: 2022-11-19
Rated

1

out of

5
by
jp1973
from
Awesome, but the battery is already not charging
I have had this mower for a little over a year and initially was very happy with my purchase. Unfortunately, after keeping this plugged in over the winter and using it just once during the summer, the battery will no longer charge or hold a charge.
Date published: 2022-10-03
Rated

2

out of

5
by
RichInNewnan
from
Awesome mower -- but...
THis is a really nice mower but -- after only one year, making sure it was plugged in ALL the time when not in use. The battery is about half the capacity. I could mow 2 acres of land and have about 40 percent left.. Now I am only doing 1 and I have less than that left over. The battery is degrading fast. At this rate it's not going to last five years. Batteries are NOT CHEAP for this mower. It's going to cost me. A gas powered mower could last me 10-15 years. This isn't going to last nearly that long.
Date published: 2022-09-26
Rated

1

out of

5
by
DenizY
from
AVOID! No support
bought this in March, worked good over the summer until one day it was completely dead. Charger won't charge it, nothing turns on, and for troubleshooting, there's no-where to start and no local repair shops....$5500 brick. closest repair place is 20 miles away, and costs a $175 to transport unit to/from repair facility. Buy gas - tools are one thing, but $5500 for something that is NOT reliable or repairable without an electrical engineer is a waste of money.
Date published: 2022-09-23
Rated

5

out of

5
by
Bibles123
from
Awesome mower
The best mower I have ever owned. It cuts great and handles very well.
Date published: 2022-09-05
Rated

1

out of

5
by
unhappycustomer100
from
Great if you only want a go-cart
This mower stops every few feet and turns off the blades. It has been in the shop for warranty fixes but it doesn't help. It beeps and stops every time I shift in the seat because it stops reading my weight. This mower was a complete waste of thousands of dollars. I wish I never would have purchased this. I have probably managed to mow my 1 1/2 acre yard 3 times since owning this.
Date published: 2022-08-26
Rated

4

out of

5
by
SuperSoapy
from
Overall, great. Battery has room for improvement.
Love the minimal set up and ease of use, and not having to deal with gas/oil/etc. is fantastic. Our yard is 4.5 mostly open acres, and it takes three full charges to make it through. Charge time is a little longer than desired, and run time is a little less than advertised, but when it's fully charged and cutting, this mower is as advertised. Probably ideal for a +/-2 acre yard.
Date published: 2022-08-25
Rated

5

out of

5
by
AandB
from
Good power
Feels like you're hovering over the grass. First timer with Zero Turn but easy to learn. Very happy with the investment.
Date published: 2022-08-17