+3
40V VAC ATTACK™ Leaf Mulcher
Model: #RY40405BTL
+3
The RYOBI VAC ATTACK™ Cordless Leaf Vacuum features 2-in-1 vacuum and mulching functions to make yard clean up quick and convenient. Featuring a durable metal impeller, shred up to 16 bags of leaves down to just 1. It includes a heavy-duty bag and adjustable wheels, allowing you to easily maneuver over a variety of terrains. The variable speed dial gives you ultimate control Tear through large piles of leaves or dial back the speed for precision vacuuming in plant beds. The VAC ATTACK™ Cordless Leaf Vacuum is compatible with 40 plus RYOBI 40V tools, batteries and chargers and is backed by a 5-year warranty.
Features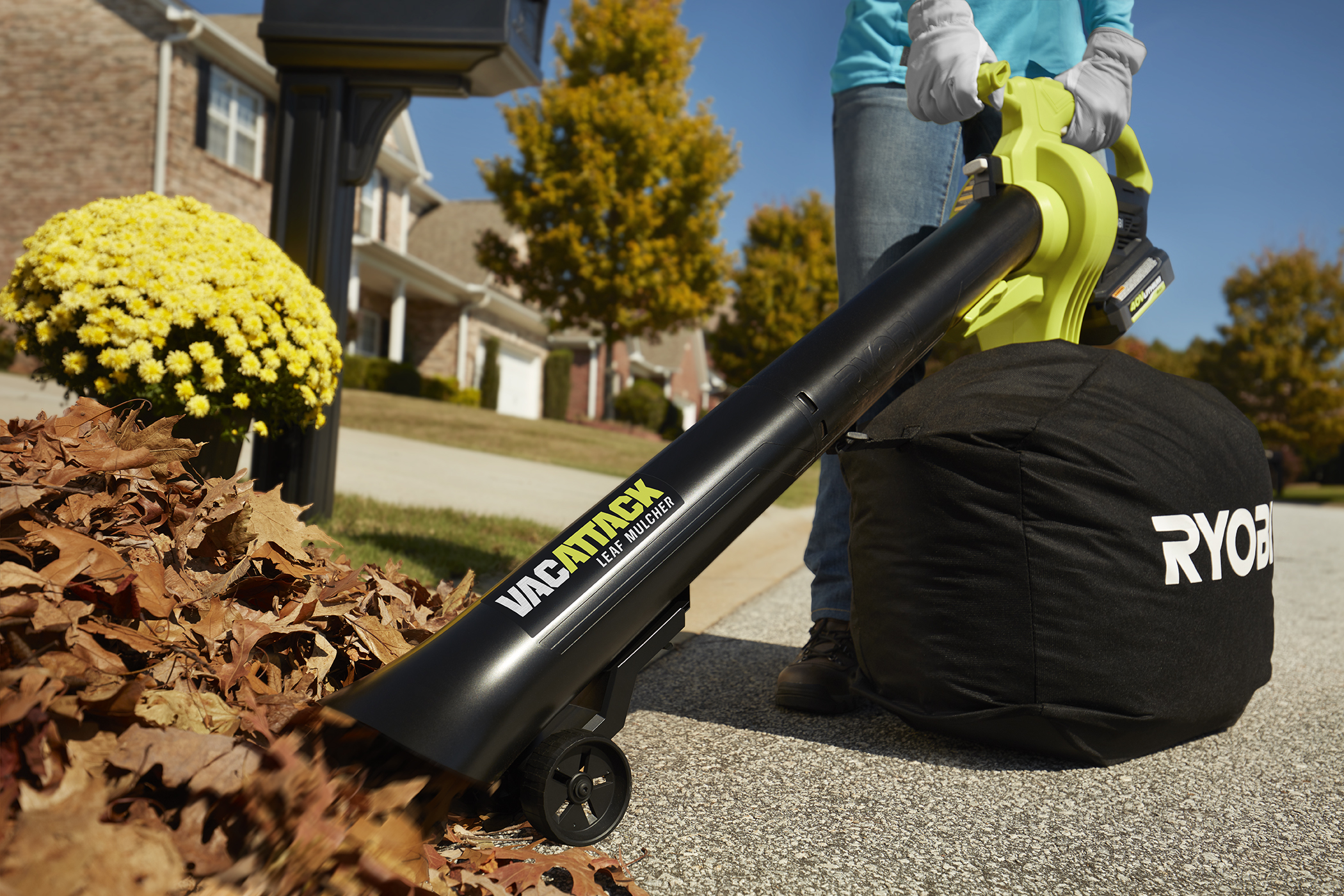 • 2-in-1 vacuum and mulching functions • Mulches 16 bags to 1 • Variable speed dial for more control • Adjustable wheels • Heavy-duty bag and zipper
Specifications
Throttle: Variable Speed
Impeller Material: Metal
Mulch Ratio: 16:1
Watt Hours: 144
Weight: 12.7 lbs.
Warranty: 5 Year
Includes
40V VAC ATTACK™ Leaf Mulcher
Operator's Manual
Reviews
40V VAC ATTACK™ Leaf Mulcher
40V Brushless VAC ATTACK Leaf Mulcher
is rated out of
5
by
373
.
Rated

5

out of

5
by
Mike7805
from
Well designed
This product directly addresses all of the failure points I experienced on a plug in model. First the outlet into the bag is channeled. The last leaf sucker tore right where the output flow met the bag. The stress at that point just tore the bag up. This one moves the output or exhaust to the center of the bag. Huge improvement. The last one I had to throw out because there wasn't a solution and the machine didn't work The other change that is big is the bag has a robust double zipper and flap to empty the bag. Single zipper is just too prone to catching junk and messing up: the opening is too narrow and everything gets stuck on it. Also makes it easier to dump quickly, which means I can get it into the green waste and shut quickly, reducing how much dust I have to deal with The other thing I love is the metal blade. It's thick enough that I know it will take the abuse and is reinforced by the plastic Impeller. 40v 5ah is some serious juice so it actually can get a huge amount of junk sucked up off my property. Very happy with how this thing performs in the real world
Date published: 2022-07-14
Rated

5

out of

5
by
Hal724
from
Great product for the yard
I have a large magnolia tree that constantly sheds leaves so I got this tool to help manage the leaves without having to take the whole yard every time. It's a solid product and has helped me in managing the leaves. It also helps to grind up the leaves so it doesn't take up as much room in the bags when disposing.
Date published: 2022-07-10
Rated

5

out of

5
by
Brendan5508
from
This thing really sucks!! (Like it's supposed to)
I bought this in the fall to make picking up the leaves easier. After using it one time it was my favorite leaf vac to use. I use to have an older plug in leaf vac and after buying the Ryobi I'm never going back. The suction on it very good and the variable speed dial works good for different amounts of leaves. For anyone trying to get away from cords or gas this is for you.
Date published: 2022-07-06
Rated

5

out of

5
by
Susan11111
from
I love it!
I have been using mine for the past year, and I love it! I have researched online, and I haven't seen any other products that are ONLY leaf vacuums like this! I have a pine tree in my yard, and it easily picks up all the pine needles (there's no way that I would be able to pick them up). I also have trees in my yard that drop leaves all year long- this easily picks up every leaf! ...I plan on using mine for many years to come :)
Date published: 2022-07-03
Rated

5

out of

5
by
ro22tol
from
What it's supposed to do
Intended use is to mulch leaves into smaller bags. It does an exceptionally good job at doing so. I purchased mine however see if it could pick up very small twigs left in the yard from my Aspen trees. I didn't do so well until I modified it. I only use half of the extension rather than the full extension and then it works quite well at picking up small twigs and mulching them. If you encounter a larger twig it may jam but it is easy to clear because you only have half the extension and you can just simply reach down and clear the clog with the machine off of course rather than taking off the extension from the unit.
Date published: 2022-07-02
Rated

4

out of

5
by
Jay1642
from
Perfect for front and back yard
I had doubts but was able to clean up grass and leaves that fall in my yard from neighboring properties
Date published: 2022-07-01
Rated

4

out of

5
by
Satkano
from
Muy cómodo de usar y limpia todo no solo las hojas
Lo compré para el día de padres y lo uso todos los días
Date published: 2022-06-28
Rated

5

out of

5
by
lkap1
from
Great Features
Its easy in the back because it has wheels. It also munches leaves well. Would definitely recommend this.
Date published: 2022-06-24