+3
40V VAC ATTACK™ Leaf Mulcher
Model: #RY40405BTL
+3
The RYOBI VAC ATTACK™ Cordless Leaf Vacuum features 2-in-1 vacuum and mulching functions to make yard clean up quick and convenient. Featuring a durable metal impeller, shred up to 16 bags of leaves down to just 1. It includes a heavy-duty bag and adjustable wheels, allowing you to easily maneuver over a variety of terrains. The variable speed dial gives you ultimate control Tear through large piles of leaves or dial back the speed for precision vacuuming in plant beds. The VAC ATTACK™ Cordless Leaf Vacuum is compatible with 40 plus RYOBI 40V tools, batteries and chargers and is backed by a 5-year warranty.
Features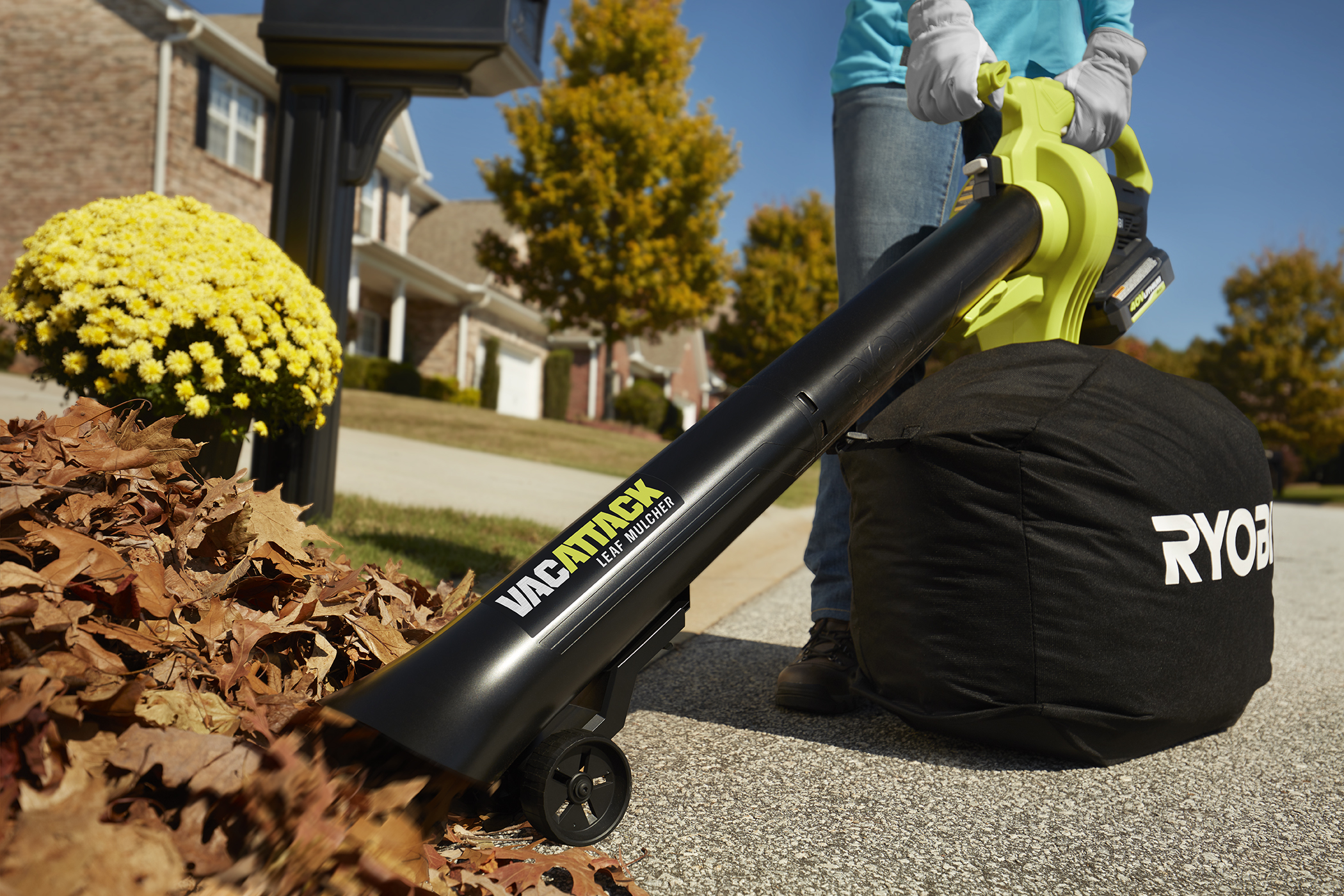 • 2-in-1 vacuum and mulching functions • Mulches 16 bags to 1 • Variable speed dial for more control • Adjustable wheels • Heavy-duty bag and zipper
Specifications
Throttle: Variable Speed
Impeller Material: Metal
Mulch Ratio: 16:1
Watt Hours: 144
Weight: 12.7 lbs.
Warranty: 5 Year
Includes
40V VAC ATTACK™ Leaf Mulcher
Operator's Manual
Reviews
40V VAC ATTACK™ Leaf Mulcher
40V Brushless VAC ATTACK Leaf Mulcher
is rated out of
5
by
409
.
Rated

2

out of

5
by
NancyB
from
Wait To Buy Until they Do a Redesign
I loved the idea of a mulcher/vacuum to roll along the ground to pick up leaves, etc. It works ... but there are some issues that are mostly design related. First, both my husband and I could not get the long black tube to permanently connect. We even tried using a rubber mallet to no avail. We didn't want to break it, so I was able to use the Vac Attack, but had to reinsert the tubes while using (duct tape may be in my future.) Also, the connection mechanism to attach the refuse bag is cumbersome and a bit difficult to attach and detach. They really need to upgrade the way the bag is attached as it takes way too much effort and I foresee the plastic connection pieces breaking in the future. Other than that, it works okay. You really need to tilt the hose right above the stuff you want to pick up, the bag is a bit on the small side, and the box says it reduces leaves to a 16:1 ratio - I've only used 10:1 ratio mulchers in the past and honestly didn't see any difference - in fact some of the leaves in refuse bag were untouched and intact. This is the only vac/mulcher on the market you can roll around. I'm going to attach some sort of belt on the device to help steady and support it and place the belt on my shoulder. It's a bit cumbersome to use. I had a Blower/vacuum/mulch device - the jury is still out as to whether that would have been a better option to purchase in my case.
Date published: 2022-12-20
Rated

3

out of

5
by
Mary W
from
Great vac, crummy wheels
My husband loves this vac, it grinds the leaves well. However, one of the wheels broke off after a few months. The quality of the wheel assembly is poor. I'd expect a child's toy to be more robust. I ordered two replacements in anticipation of this being a regular event. (Hopefully I ordered the right part--the parts website didn't have a diagram or photo of the part.)
Date published: 2022-12-17
Rated

2

out of

5
by
marge000
from
Wheel and Bag Issues
I purchased my leaf vac mulcher earlier this year. While I have only used it a few times and I do like it a lot, it is now useless as one of the wheels and the plastic part it attaches to has completely broken off of the nozzle rendering the whole unit no longer usable. Here are a few issues to consider before making a purchase of this leaf vac/mulcher: ** the wheels and plastic attachment to the nozzle are a weak point and broke completely off -- and that is not covered under warranty. The unit is pretty much useless with only one wheel, and I have been told this defect is not covered under warranty. I have to purchase a whole new leaf vac mulcher. **the leaf bag velcro/zipper does not seal properly --and dust/debris does tend to blow out **the bag does not stay clipped on the vacuum nozzle ---this makes it unwieldy and a back strain **take the bag needs to have heavy-duty stainless-steel snaps on the bag flap **there needs to be a strap to improve the bag clip to keep the bag tied to the vacuum nozzle as the bag fills **the unit needs stronger attachment point and larger diameter wheels to better maneuver the leaf vacuum/mulcher better -- because as the bag fills, it gets heavy and unwieldly to handle [especially when the operator is 5'3")
Date published: 2022-12-16
Rated

5

out of

5
by
edog13
from
Great leaf vacuum
I bought this a few weeks ago and am impressed with the product. I have almost an acre of back yard and this worked awesome. I was able to save my back on picking up leaves with this vacuum. I strongly recommend to others
Date published: 2022-12-12
Rated

4

out of

5
by
Carl99
from
Good suction but wheels break easily.
Does a good job sucking up leaves. Only problem is the wheels keep breaking. Replaced once, now need to replace second broken wheel. Only 6-months old. Need wheels to use unit, as I'm in late 70s. Warranty Support refused to replace, telling me it's NORMAL WEAR AND TEAR. Not so.
Date published: 2022-11-24
Rated

4

out of

5
by
grgosse
from
Good riddance to my leaves!
Purchased mine Oct, 2022. Waited anxiously anout a week itching to get out to find the lawn agian buried in leaves. Everything assebles with ease and disccects very easily for unloading, battery excahnge, etc. ONLY issue I really had is the bag clip that attaches it to the tubing continually disconnects itself. It should jave been located a couple inches further down to give a snug attachment and the weight would then prevent that. If you're vacuuming in a pile use the Low setting or else it could easily clog sucking too much at once because it is powerful.Once I unclogged twice after some time I figured it out and haven't clogged it again after multiple unloads of the bag. Requires some effort to uinload but you're happy to see so many leaves mulched to small nits making a regular garbage bag hold a lot of mulched leaves versus multiple bags for the same amount. Overall a very satisying tool in your yard.
Date published: 2022-11-19
Rated

4

out of

5
by
Yllescas
from
Good suction power
Does a great job with piles of leaves. Bag gets heavy but wheels rollers help alot.
Date published: 2022-11-16
Rated

4

out of

5
by
Angelrod
from
Great machine
It's great and I'm pleased with it. Just which the battery lasted longer
Date published: 2022-11-15