+7
40V HP 21" Brushless Walk Behind Push Mower with 40V 7.5Ah Battery and Charger
Model: #RY401200
RYOBI redefines power and convenience with the 40-Volt HP 21 in. Push Cordless Lawn Mower. The premium HP brushless motor provides more power, longer runtime, and a longer motor life. It starts with just a push of a button, without the hassle of gas, oil, or maintenance. This mower is ideal for yards up to 1/2 acre, featuring dual active battery ports and a 40-Volt 7.5Ah battery that provide up to 50-minutes of runtime. The 21 in. durable polypropylene deck is lightweight, resists corrosion, and is covered by a lifetime warranty. The mower has a 10 in. high wheel design and the deck features 7 position single point height adjustment to easily select your grass height between 1.5 in. and 4 in. With the 3-in-1 mowing functions you can choose between bagging, mulching, or side discharge functions. The easy lift single motion bag removal allows you to quickly and easily empty the grass catcher bag and get back to work. When the job is done, the 1 touch aluminum handles fold for compact, vertical storage. This mower includes a 40-Volt rapid charger, which charges your RYOBI 40-Volt batteries 4X faster than the standard charger. The RYOBI 40-Volt HP 21 in. Push Lawn Mower, batteries, and rapid charger are all compatible with 50 plus RYOBI 40-Volt products. This mower is proudly made in the USA with global materials and is backed by a 5-Year Tool Warranty.
Features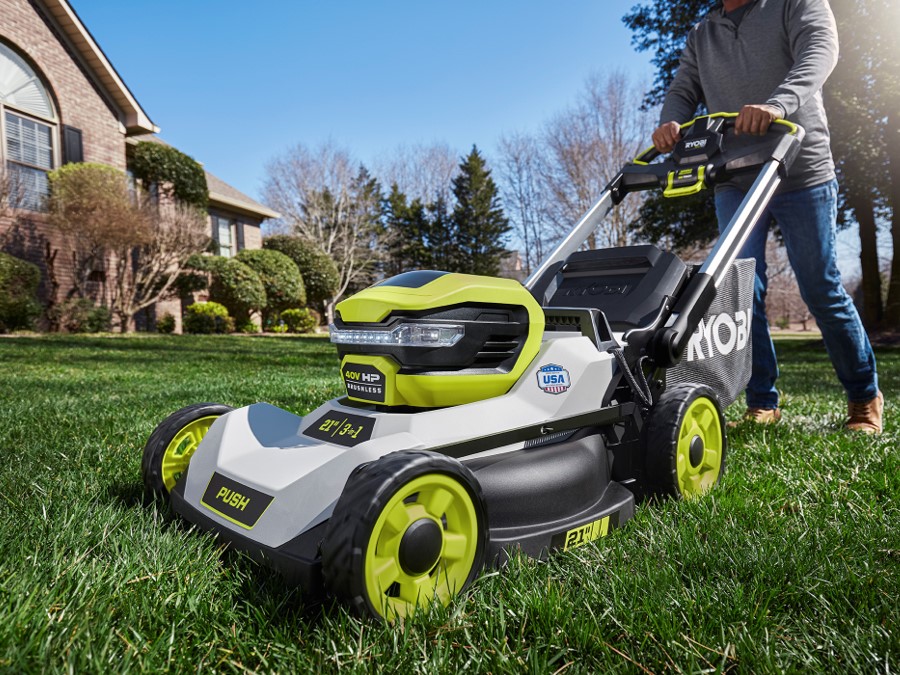 • High performance brushless motor delivers maximum performance and GAS-LIKE POWER
• Push button for hassle free starting
• Up to 50-minutes of runtime, ideal for 1/2 acre or less
• Dual active battery ports
• Deck is covered by a lifetime warranty
• 7-position, single-point height adjustment from 1.5 in. To 4 in.
• 3-in-1 mowing functions, mulching, bagging and side discharge
• Easy lift single motion bag removal
• 1 touch aluminum handles for compact, vertical storage
• High-intensity LED headlights
• Includes a RYOBI 40-Volt lithium battery (do we need amp hour here?)
• Includes a rapid charger for 4X faster charging
• Works with all RYOBI 40-Volt lithium batteries
• 5-year tool warranty, 3-year battery warranty
Specifications
Cutting Height: 1.5" - 4"
Deck Size: 21"
Weight: 63.5 lbs
Battery: 40V 7.5 Ah Battery
Mowing Function: Mulching, Bagging, or Side Discharge
Recommended Yard Size: 1/4 to 1/2 Acre
Deck Height Adjustments: 7-Position Single Point
Estimated Runtime: Up to 50 mins.
Warranty: 5 year tool warranty and 3 year battery warranty
Includes
40V HP 21" Push Mower
40V 7.5Ah Battery
Rapid Charger
Reviews
40V HP 21" Brushless Walk Behind Push Mower with 40V 7.5Ah Battery and Charger
40V HP BRUSHLESS 21" MOWERS
is rated out of
5
by
233
.
Rated

5

out of

5
by
Tony 773
from
Great machine
Bought this model over the weekend. Charged up the batteries and was able to cut my back, side and front yard in about an hour. The ability to control the speed of the blades gives you so much more control to cut your lawn to your specifics. Highly recommend.
Date published: 2023-05-23
Rated

4

out of

5
by
Dane210
from
Mower is great but quit working--Help me!
I bought a combo of Ryobi tolls in April 2021. Did not use the mower much until recently as we lived in an apartment complex. We now have a yard. The mower cut beautifully and was very easy to maintain and handle. One day, it would not turn on. I cleaned the batteries, the compartment and undercarriage. I charged the batteries, and made sure all components were locked in. It does nothing. I blew out the start key compartment, and made sure the key was in good condition. No luck. I have been trying to reach Ryobi about a resolution and I can not get in touch with them. Closest service center is in a small town two hours away. I am not even sure how to handle if I decided to make that trip. I love the mower but can not get it to work. If I could reach the customer service department for Ryobi I would be better off. Help me RYOBI!
Date published: 2023-05-23
Rated

5

out of

5
by
Haskaa
from
Great Mower
...........................................................................................................................................................................................................................................................................................................................................................................
Date published: 2023-05-23
Rated

5

out of

5
by
Dad2u
from
Exceeded my expectations
I just got this mower trimmer combo. 6 amp hour Batteries arrived with one bar of charge. Took 1 hour and 2 minutes to fully charge at room temp. First thing I noticed was how quiet it was. I used one battery and trimmed my yard (60x120) then put it in the mower and mowed 90% of the lawn with one battery. Awesome. The mower is light enough that I never needed the self propelled feature. I went over some dusty areas and thought I should remember to clean the air filter. It doesn't have one!! No gas or oil either. Starting couldn't be easier. The only thing I would change is the self propelled handle with the speed switch. My old Husqvarna mower had speed control built in to the handle. The more you squeezed it the faster it went. Extremely happy with this unit. Would definitely recommend it. This is the way of the future.
Date published: 2023-05-21
Rated

5

out of

5
by
Chuck 547
from
Great Features
Ive only used this mower twice and I think its great. The only thing I could do without lighting as it along with self propelled draws alot from the battery. Do not get alot of run time if I continuously use self propelled. Only used this if on an incline. Th one lever rise and lower the body for length cut is great along with the easy fold away handle and stand up storage.
Date published: 2023-05-21
Rated

5

out of

5
by
candilynn79
from
Great mower!
Very happy with this mower. Have recently switched to several battery powered Ryobi tools that we have been happy with so it was a no brainer when it was time to get a new mower. We are not disappointed. And you can't beat a push button start :)
Date published: 2023-05-21
Rated

4

out of

5
by
LenBoy
from
Ryobi self propelled 21" Mower
Great mower, much better than the Dewalt I had purchased and returned a couple of weeks ago. Easy to use, Easy to adjust the height of the deck. Easy clean, everything is easy about this product. Recommended for my 70 year old father in-law, he loves is it, easy and light weight he cuts he lawn twice as much as he did before.
Date published: 2023-05-20
Rated

5

out of

5
by
Kcoyle
from
A Fantastic Choice for a Green and Pristine Lawn!
I recently purchased the Ryobi 40v Lawn Mower, and I must say, it has exceeded all my expectations! This mower has been an absolute game-changer for maintaining my lawn, and I couldn't be happier with the results. First and foremost, the cordless design of the Ryobi 40v is a true blessing. No more dealing with the hassle of tangled cords or limited range of movement. I can freely navigate my entire yard without any restrictions, making the mowing process efficient and enjoyable. The cutting performance of this mower is outstanding. The 40v battery delivers ample power, allowing the blades to effortlessly glide through even thick and unruly grass. The cutting height adjustment feature is simple to use and provides precise control over the desired grass length. I appreciate the versatility it offers for maintaining a well-manicured lawn. One of the standout features of the Ryobi 40v is its quiet operation. Compared to traditional gas-powered mowers, this machine is significantly quieter, creating a peaceful and serene mowing experience. I can now mow my lawn early in the morning without worrying about disturbing my neighbors or disrupting the tranquility of my neighborhood. Durability is another key aspect where the Ryobi 40v shines. The build quality is excellent, and the materials used are sturdy and resilient. Even after multiple uses, the mower remains in great condition, showing no signs of wear and tear. I have confidence that this mower will serve me well for many seasons to come. Lastly, I must mention the convenience of the Ryobi 40v's easy-start system. With a simple push of a button, the mower comes to life, eliminating the need for excessive pulling or priming. It's a time-saving feature that adds to the overall efficiency and user-friendliness of this fantastic machine. In conclusion, the Ryobi 40v Lawn Mower is a top-notch choice for anyone seeking a reliable, efficient, and hassle-free mowing experience. Its cordless design, exceptional cutting performance, quiet operation, durability, and easy-start system make it a standout in its class. I wholeheartedly recommend this mower to anyone looking to maintain a beautiful and well-groomed lawn.
Date published: 2023-05-20
Rated

5

out of

5
by
downedpilot
from
Super quiet and one of the best on the market
Has plenty of power and is very easy to use. Much better than my old gas mower. It's quiet and I can even talk on the phone while mowing the lawn using cruise control.
Date published: 2023-05-20
Rated

5

out of

5
by
Dave1234567890
from
Perfect!
Bought this mower to replace the old gas guzzler. It's light and powerful. Did my complete lawn, front and backyard and still had about 30% power left on the battery. Light weight. I can lift it up and put it in the back of my full size truck with no problem.
Date published: 2023-05-20