+7
40V HP 21" Brushless Walk Behind Push Mower with 40V 7.5Ah Battery and Charger
Model: #RY401200
RYOBI redefines power and convenience with the 40-Volt HP 21 in. Push Cordless Lawn Mower. The premium HP brushless motor provides more power, longer runtime, and a longer motor life. It starts with just a push of a button, without the hassle of gas, oil, or maintenance. This mower is ideal for yards up to 1/2 acre, featuring dual active battery ports and a 40-Volt 7.5Ah battery that provide up to 50-minutes of runtime. The 21 in. durable polypropylene deck is lightweight, resists corrosion, and is covered by a lifetime warranty. The mower has a 10 in. high wheel design and the deck features 7 position single point height adjustment to easily select your grass height between 1.5 in. and 4 in. With the 3-in-1 mowing functions you can choose between bagging, mulching, or side discharge functions. The easy lift single motion bag removal allows you to quickly and easily empty the grass catcher bag and get back to work. When the job is done, the 1 touch aluminum handles fold for compact, vertical storage. This mower includes a 40-Volt rapid charger, which charges your RYOBI 40-Volt batteries 4X faster than the standard charger. The RYOBI 40-Volt HP 21 in. Push Lawn Mower, batteries, and rapid charger are all compatible with 50 plus RYOBI 40-Volt products. This mower is proudly made in the USA with global materials and is backed by a 5-Year Tool Warranty.
Features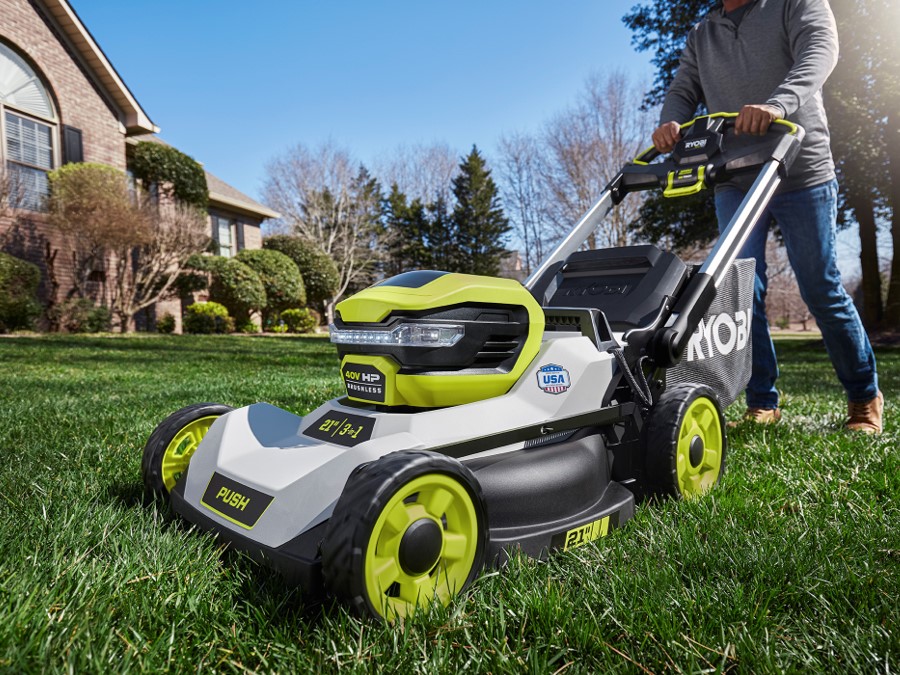 • High performance brushless motor delivers maximum performance and GAS-LIKE POWER
• Push button for hassle free starting
• Up to 50-minutes of runtime, ideal for 1/2 acre or less
• Dual active battery ports
• Deck is covered by a lifetime warranty
• 7-position, single-point height adjustment from 1.5 in. To 4 in.
• 3-in-1 mowing functions, mulching, bagging and side discharge
• Easy lift single motion bag removal
• 1 touch aluminum handles for compact, vertical storage
• High-intensity LED headlights
• Includes a RYOBI 40-Volt lithium battery (do we need amp hour here?)
• Includes a rapid charger for 4X faster charging
• Works with all RYOBI 40-Volt lithium batteries
• 5-year tool warranty, 3-year battery warranty
Specifications
Cutting Height: 1.5" - 4"
Deck Size: 21"
Weight: 63.5 lbs
Battery: 40V 7.5 Ah Battery
Mowing Function: Mulching, Bagging, or Side Discharge
Recommended Yard Size: 1/4 to 1/2 Acre
Deck Height Adjustments: 7-Position Single Point
Estimated Runtime: Up to 50 mins.
Warranty: 5 year tool warranty and 3 year battery warranty
Includes
40V HP 21" Push Mower
40V 7.5Ah Battery
Rapid Charger
Reviews
40V HP 21" Brushless Walk Behind Push Mower with 40V 7.5Ah Battery and Charger
40V HP BRUSHLESS 21" CROSS CUT PUSH MOWER KIT
is rated out of
5
by
112
.
Rated

5

out of

5
by
Rmarier
from
Replacement for old 2 stroke Lawnboy
I was looking for a replacement for the old Lanwboy 2 we had in the family since 1977. Although it was not a model of echo friendliness, it was light and reliable, but it made its time. I was looking for a replacement, but all I could find was giant self-powered machines with 4 stroke engines that need maintenance. I finally stumbled on this battery powered models at our local Home Depot and decided to give it a try. Overall, the machine is pretty light, and more than powerful enough for our size of lawn. It is amazingly silent compared to our two old stroke or the neighbours electric LOL. I really did not want a corded mower, as I hate extensions. Now this is the best of both worlds. At first, I was skeptical about its plastic construction, but I have to say, it is pretty solid. The one feature I did not expect when I purchased it (as a typical gas mower owner) is the folding handle that enables you to store it upright. just love the thing
Date published: 2022-11-02
Rated

5

out of

5
by
JimJ21
from
Great Cut, Great Battery Life, Super Easy to Use
I bought this in May, 2022 mostly for trim mowing around my yard. I really enjoy the product and it has made my yardwork a lot easier. I also bought with the leaf blower and weed whip. I don't regret getting rid of my old, hard to start gas equipment that I was always tinkering with something on, at all.
Date published: 2022-10-12
Rated

5

out of

5
by
sslice
from
Great system and power
This is my first cordless mower. Pressed with the power, ease of use and how easy it is to store. Lots of power
Date published: 2022-10-09
Rated

5

out of

5
by
PaulB69
from
Love my Cross cut Mower
I bought this 2 years ago and it has been such a great purchase! It is so easy to use, quiet and do not have to worry about gas!
Date published: 2022-10-06
Rated

5

out of

5
by
Sailorman43
from
GREAT ADDITION TO MY RYOBI "FAMILY"
I once owned an electric B&D lawn mower that was completely underwhelming. I then owned a gas powered, self-propelled Toro mower that worked and ran great, but was a clunk to slug around. I probably delayed switching to a battery powered Ryobi for at least two years just based on my previous experience with an electric mower. I am sorry I did. After watching my neighbor mow with a battery powered mower (not Ryobi) I thought it was probably time to do some research on Ryobi 40v mowers. Following three days of research, and much review reading, I opted for the 40v Brushless 21" crosscut push mower. The two main reasons for push over self-propelled is that I never used the self-propelled option on my gas mower, and majority of reviews made it seem that Ryobi self-propelled mowers used up battery much faster than push mowers. I own a garage full of Ryobi power tools and outdoor equipment and have never had a single problem and am expecting the same from my new mower. The mower is well constructed, fully assembled, light weight, very easy to store with upright storage, easy to start, easy to push, and if my wife is to be believed, "cool looking". I mow my front yard and back yard at two different heights (because of dogs) and height adjustment on my Toro was a pain, having to adjust each wheel. The single-point height adjustment on the Ryobi was a breeze and easy enough that my wife could have done it. Battery life was the biggest unknown prior to using the mower for the first time. The mower comes with a 7.5ah battery and quick charger, and I ordered a back-up 6ah batter, as the mower has slots for two batteries. I have about 1/8 of an acre, and the 7.5ah battery was quite sufficient to mow front and back (likely did not need the second battery, but always good to have a back-up). As I have only mowed once, I have only used the bagging option, which by the way is leaps and bounds better than my Toro. I have no doubt that the mulching option and side discharge option will both be satisfactory if I ever need to use them (which I probably will not). About the bag; the bag is larger than my Toro, and the opening from the blade to the bag is larger, making the bagging much more efficient. My front yard was still damp when I mowed and it bagged without a hitch. If Ryobi was smart, they would put together a demo team for lawn equipment and sponsor demo days, much like motorcycle manufacturers do. Allow people to actually get some hands-on experience rather than just looking at the product on-line or on a shelf. I would be available in the western Washington region to run one of those teams if needed.
Date published: 2022-09-11
Rated

4

out of

5
by
aJPC
from
Room for Improvement
So far, without using the product, I have the following to say as a general consumer with an engineering background that appreciates how technical instructions readily become bla bla bla to non-technical users. These comments are with that preface. • 15° maximum angle: I have no idea what angles are on my lawn, I don't plan on doing a site survey to find out and the device has no means of indicating out of range use. As this is likely a common situation to most, I suggest adding a bubble indicator with green and red transparent zones to indicate in and out of range use. • "keep all bystanders…at least 100' away.": as someone that lives in the suburbs, that basically exceeds the size of my property. 100' is excessive. • "Never use a hose, water or any liquids to clean or rinse off the lawn mower.": This seems like a design undersight. In my opinion, any outdoor equipment should be able to handle reasonable degrees of water exposure for the product's intended use. I suggest sealing and properly venting water sensitive electronics so that the device can handle reasonable water exposure during use and cleaning. This can be a useful feature to help differentiate Ryobi products from other electric outdoor equipment competitors and close the gap between electric and gas outdoor equipment. • "Wipe the mower clean with a dry cloth occasionally.": Have you ever tried to wipe clean any plastic with a dry cloth that has dust or grass clippings on it? Static generation from wiping means a lot of effort and gradual frustration. This plays into the above point. Personally, I like to care for my equipment and keep it looking clean and new, not like a neglected dirt hog. • "Do not store battery packs or lawn mower in locations where the temperature is less than 50°F or more than 100°F.": Typical storage places for this type of equipment are without environmental controls and therefore can fall outside the defined temperature limits. If storage outside the defined temperature limits exposes the device to significant risk, then the product is immediately worthy of return for a gas powered equivalent. As a question to Ryobi, what percentage of users actually store their devices within the defined temperature limits? • "The recommended torque for the blade nut is 325 - 400 in.lbs.": Most consumer torque wrenches scaled in in.lbs have a limit of 250 in.lbs or less. Therefore, a repair person either converts to ft.lb or needlessly goes looking for a high capacity in.lb torque wrench. I recommend specifying this torque value in ft.lbs so that a qualified technician or capable user doesn't have to convert and can readily identify an appropriate tool with a sufficient operating range for the task (a typical 3/8" drive, 10-75 ft.lb torque wrench). • Item H in Figure 1 and Item B in Figure 12 point at the incorrect feature for the Start Button. I have not used the product yet as it is winter and there is nothing to mow. It will get used come spring. After using the product, I have the following to say. • I have a 0.2 acre lot with a 1300 square foot two story home on it and don't know the exact square footage of my lawn. It takes me about 1 hour to mow everything how I like. If the mower never has to kick into high speed mode for a heavy cut load, then the provided 10 Ah battery may make it all the way through so long as I keep the pace up. If I have to do any second passes or if the mower does kick into high speed mode, then I often have to switch to a 2.5 Ah battery I have for other Ryobi devices. This usually gets me through to finish. • What conditions enable or prevent the mower to kick into high speed mode are a little mysterious. Battery life appears to be one of them and I feel there may be some machine learning too but these are just educated guesses. Initial use of the mower yielded very random responses with the mower sometimes repeatably bogging down to nearly a stall without an observed attempt to kick to high speed mode. Continued use seems to have yielded more consistent results and I have learned to work with it better too, anticipating when it may demand high speed mode. • Break down torque of the motor is just a bit too low. Having a gas mower to switch to for side by side comparison on the same patch of grass was useful to demonstrate this. The gas equivalent would power through demanding cuts where the Ryobi was more likely to bog down. I wonder if weight was prioritized over motor performance. Greater break down torque would be beneficial. • Response time to kick into high power mode is sometime a bit too slow. i.e. I am past the tall section requiring high speed by the time the mower speeds up. I have learned to walk slower for short demanding patches to avoid this and the energy it wastes. • The mower is light weight and nimble making it easy to maneuver compared to the gas equivalent so much so that my 4 year old can push it even though he is a bit short for the handle. • Cut quality is good. It makes a nice buzz while working along. • I usually have the deck set to position 5. In that position, I do find myself wishing there was more of an updraft to lift long thin grass. For example, the grass can be standing fine. I make a pass and the wheels run over some grass which is now laid down. The next overlapping pass doesn't always light that grass up to cut it. I either have to lead the cut with a rake to lift it back up or walk backwards so that the flap at the back of the mower "rakes" it up. I am aware that the instructions advise against walking backwards, but that is silly. • Height adjustment is a breeze. • The battery key is a nice feature that enables the user to quickly swap from a depleted to charged battery. • Battery area could benefit from better sealing. It is gradually getting filled with dirt and clippings. • I really wish I could take a hose to this thing to wash it down. Best I can do is compressed air via an air gun or a soft long bristle brush. • There is an externally routed electrical wire on the left side of the device that goes from handle to base. The wire is captured with a routing clip. That wire very often gets caught on something and popped out of the routing clip. It is only a matter of time before either the clip or wire gets damaged. • The first mechanical failure was one of the decorative black plastic covers at the base of the handle, which had both of the snap tab features broken off when a bush branch removed the piece from the mower. • The headlight is a gimmick that for the most part, consuming energy that could otherwise be used for mowing. I know, it consumes like 3 watts…but for what purpose? Since when does a mower need stylish DRLs? • Folding handle is nice. It takes up much less shed space than the gas mower. • Its noise signature is less intrusive than a gas mower, hearing more of the blade action than the motor. Overall, I am a satisfied customer that has learned to work with its shortcomings and be cautious about its sensitivities. However, I do hope Ryobi would consider some of these points for the benefit of the device and its user's satisfaction.
Date published: 2022-08-24
Rated

5

out of

5
by
Eliah
from
Practical and easy use
We bought it to facilitate the time and physical effort to clean the yard, cut the grass, etc. Amazingly is not a noisy equipment and lightweight. We are also exited for not using gas and the choking cord. A plus. However, the original price was $699 but was not at the stored we visited. We were told to go another store not near our home or wait for the following week. They have already place an order. Sadly the price then was $100 extra!! We expected to pay the original price we took picture.☹️but was not honored.
Date published: 2022-08-22
Rated

5

out of

5
by
Revloge
from
Powerhouse!
Have been loving this new Ryobi Mower since my wife and I moved! Gets the whole yard done in less than one battery charge and looks great.
Date published: 2022-08-10