+7
18V ONE+™ LITHIUM+™ 22" Hedge Trimmer WITH 1.5AH BATTERY & CHARGER
Model: #P2660
22" dual-action blades for extended reach and reduced vibrations
HedgeSweep debris remover clears clippings as you trim
Rotating handle for trimming at all angles
+7
Features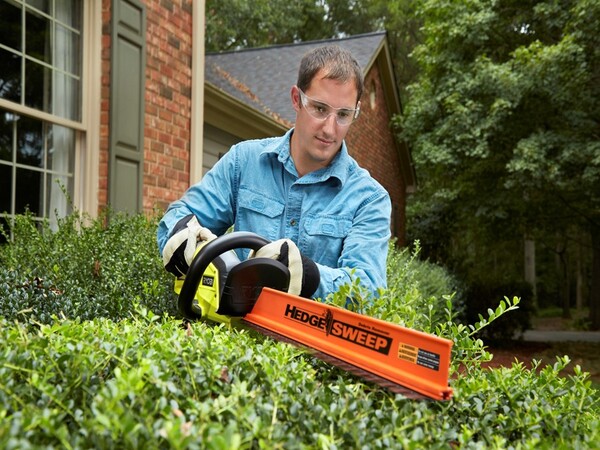 HedgeSweep Debris Remover
Clears clippings as you go
Wrap-Around & Rotating Handle
For greater cutting control and trimming at all angles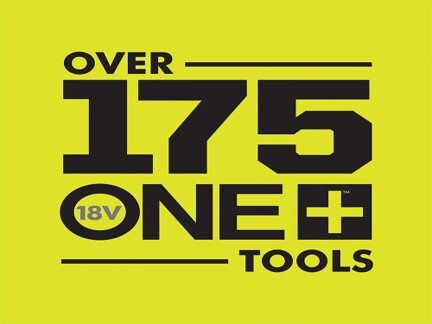 System Compatibility
Over 175 ONE+™ Tools – All work with any RYOBI ONE+™ 18V battery
Specifications
Dimensions
Battery

18V ONE+™ 1.5 Ah Battery

Blade Length

22"

Cut Capacity

3/4"

Maximum Cutting Diameter

.75"

Weight

7.25 lbs.

Warranty

3 Year
Includes
18V ONE+™ 22" Hedge Trimmer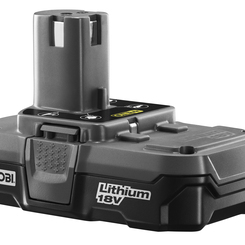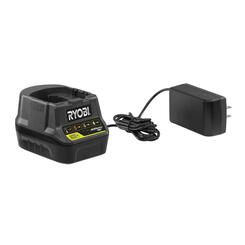 [#<ProductFeature id: 2792, title: nil, content: "18V ONE+™ 22\" Hedge Trimmer", photo: "902792dc-9251-4ac7-89ad-2e622d7b4730.jpg", created_at: "2020-09-08 22:05:33", updated_at: "2020-09-08 22:05:33", product_id: 786, sort: 0, enhanced_type: "included_item", enhanced_group: nil, enhanced_icon: nil>, #<ProductFeature id: 2793, title: nil, content: "18V ONE+™ 1.5 Ah Battery", photo: "a38003ea-ad3a-46f6-bca6-07c4992d0585.jpg", created_at: "2020-09-08 22:05:33", updated_at: "2020-09-08 22:05:33", product_id: 786, sort: 1, enhanced_type: "included_item", enhanced_group: nil, enhanced_icon: nil>, #<ProductFeature id: 2794, title: nil, content: "18V ONE+™ Charger", photo: "f4a237bf-974b-4a50-b4e8-4147deca388a.jpg", created_at: "2020-09-08 22:05:35", updated_at: "2020-09-08 22:05:35", product_id: 786, sort: 2, enhanced_type: "included_item", enhanced_group: nil, enhanced_icon: nil>]
Reviews
18V ONE+™ LITHIUM+™ 22" Hedge Trimmer WITH 1.5AH BATTERY & CHARGER
18V ONE+™ LITHIUM+™ 22" Hedge Trimmer WITH 1.5AH BATTERY & CHARGER
is rated out of
5
by
3072
.
Rated

5

out of

5
by
Martini
from
Love the power
I had an old cordless 3/8" hedge trimmer, for normal hedge's OK, but when trimming my overgrown Rosemary around the house, it just won't cut, so invested to this new 3/4" hedge trimmer, what a differences it make, cut through tough Rosemary branches without any problem at all, love the rotation feature, made it easy when trimming along chain link fence. I have many Ryobi 18+ tools, this one just added a nice touch to my cordless collection, was thinking about those 40V cordless yard tools, after used this one I think 40V tools would be a waste of $, 18V got enough power to get the job done.
Date published: 2016-04-13
Rated

5

out of

5
by
JoeAbw
from
Love this hedge trimmer. great product
f you are considering the 18 inch model, I strongly suggest you upgrade to this model. For $10 more the benefits are well worth it, >The Hedgesweep is a huge time saver especially for those of you that have row hedges. It can be removed/installed in 2 seconds. >The rotating head [does 90 or 45 degrees left or right] makes side trimming easier. >Not sure about others, but this model comes with a nice storage blade guard. > I have 200'x2'x2' privet hedges and the 3/4 cut is more than enough. >Power is very good. >This review is based on usage of Lithium + batteries. >I bought this as part of the combo 2660 & consider it a great value.
Date published: 2017-06-23
Rated

5

out of

5
by
Leader1
from
I tried out a number other hedgers!
I first bought the Ryobi 18 volt hedger and thought it was pretty good. However I was not satisfied so I took it back. Being use to my old plug in hedger, I felt it should have a little more power behind it. Well after trying THREE other well known brands the Ryobi is back. The weight is excellent along with the hand grip size. The ability to swivel the handle makes it great for shaping the hedges. And of course the hedge sweep keeps the mess to where you want it. The added plus is the 3000 cuts strokes per minutes! I don't work for Ryobi this is for real. Suggestion...add 40 volts to the hedger. Sorry no viedo.
Date published: 2017-06-14
Rated

4

out of

5
by
Culver467
from
I Love This Thing!
I Love this thing. I've had it for a month now but in Texas, in the summer, I've had to use it twice already on the same bunch of hedges. I am impressed by the run time (with one of the big lithium batteries that I already had) as well as the how easy to it is use. I also used it along a fence line in our field to cut down to size the grass that had grown up about two and a half feet around the fence posts. It made it so much easier to then use the string trimmer to finish cutting that grass down to ground level. Now I'm looking around to see what else I can use this light weight tool for. As with all my Ryobi tools, I'm pretty happy with this one!
Date published: 2017-07-24
Rated

4

out of

5
by
Greeni
from
Powerful Cutting Tool
I bought this today and tried it out immediately. Cuts exceptionally well, even thicker stems and branches on evergreens. No need to worry about plugging into an outlet or dragging along a long extension wire. No getting tangled in the wire or accidentally cutting it. The sweeper debris feature works very well. It can be removed from the trimmer. Also good is that you can set the angle of the trimmer so you don't have to twist your hands to angle the trimmer. It should be noted that the trimmer is a bit weighty. Its about 8 lbs. without the battery, and 9 to 10 lbs with battery.
Date published: 2021-10-08
Rated

5

out of

5
by
Pcarlson317
from
Worked extremely well
I brought this to trim a hedge that was about 8ft tall and 50ft long that had over grown. I purchased this unit because I already had another Ryobi tool (18gauge nailer) with 4.0aH battery. I didn't want to have another vendor battery and charger (already have 2 others). The unit worked extremely to trim back the hedge even on branched about 3/4" thick. I was able to complete about 90% of the trimming with this unit. The rest required a Bypass Lopper to cut back. I didn't even have to recharge the battery. I completed the task on a single charge. Overall I'm very pleased and will use the unit to keep the hedge from becoming over grown again.
Date published: 2019-05-02
Rated

5

out of

5
by
Aunt G
from
No more cutting extension cords!
I was SO frustrated because I was always cutting extension cords when trying to clip/trim my bushes. This is SO much easier and has a longer trimmer than my old corded one. It's a little heavier than I would like but the loner edge makes the task go faster so my arm won't get tired as quickly. I enjoy keeping my yard neat and attractive and did major research before purchasing. Unfortunately, my local store didn't have one in stock so I ordered online. It took almost a week to arrive because the box was tattered and FEDEX repackaged it. However, everything was in the box and customer service was AWESOME so I knew it was a good choice.
Date published: 2019-06-20
Rated

5

out of

5
by
Anonymous
from
works great!
I had a garage full of gas power tools that I hadn't used in 10 years. After plenty of research I determined they simply were worth fixing when I compared the cost of repair to this awesome one+ lineup. I already had a 3ah battery from a circular saw so I bought the hedge trimmer with battery and charger and the string trimmer with battery and charger. I also now have the brush cutter, pruner and articulating hedge trimmer expand it attachments as well as the 410 cfm blower(tool only), 12" chain saw(tool only) and 2-gallon garden sprayer. These new battery operated tools are so much better than dealing with 2 cycle BS. Well done Ryobi!
Date published: 2020-07-23