+5
18V ONE+™ Shear/Shrubber
Model: #P2900BTL
+5
Maintaining your yard is simple with the RYOBI 18V ONE+™ Grass/Shear Shrubber. This versatile tool features a quick connect system that allows you to easily switch blade types, saving you time and helping you keep your hedges and lawn perfectly manicured. The compact, lightweight design makes for convenient and easy operation. With cordless convenience you gain increased mobility. Best of all, any RYOBI 18V ONE+™ battery will power this shear shrubber.
Features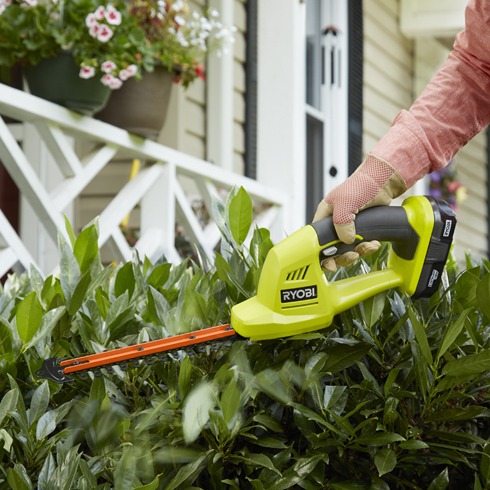 Easily Converts Between a Grass Shear and a Shrubber
Compact Light Weight Design for Easy Operation
Overmold Handle for Added User Comfort
Dual Action Blades for Smooth Operation
3/8" Cut Capacity
Tool-less Blade Changing
Specifications
Blade Length: 8"
Shear Length: 3"
Cut Capacity: 3/8"
Weight: 3.2 lbs.
Includes
18V ONE+™ Grass/Shear Shrubber
Shear Blade
Shrubber Blade
Blade Covers
Operator's Manual
Reviews
18V ONE+™ Shear/Shrubber
18V ONE+™ 6" SHRUBBER
is rated out of
5
by
468
.
Rated

5

out of

5
by
TexanJim
from
18V ONE+™ 6" Shrubber Trimmer Review
I purchased this Shrubber to trim an ornamental evergreen shrub that has five large ball-shaped areas. This 18 volt set was perfect for this type of trimming as it is light enough to be used one-handed even when using a ladder. Even though I bought it for use on this one large shrub, it turns out that I have now sidelined my old heavy corded trimmer and use this one exclusively. I know anyone that uses this shrubber will appreciate the interchangeable cutters. One for larger flat areas and a smaller one for more detailed trimming. Ryobi does it again with making another 18 volt garden tool that is essential!
Date published: 2020-10-23
Rated

5

out of

5
by
X23ageS
from
Great Value
I purchased this yesterday from Home Depot and I must admit I wasn't there for it but they have this item marked down new for $28.00 tool only so I figured I would try it. I used it this morning and it works great if you are not trying to trim giant sized hedges. The smaller waist high bushes we have were no challenge for this tool and I will be using it now since the other trimmer I have is corded and built for larger bushes we no longer have. I did not try the grass shears but I will try it on the areas of grass closer to the house that the mower cannot get into. Setup of this tool is pretty much unwrapping and sticking the battery in. I do like the fact you can change out the shears and hedger attachments without tools.
Date published: 2019-08-22
Rated

1

out of

5
by
Steff 49
from
No Good Luck with this trimmer
I bought a double battery pack and charger. The special was I chose a tool only to go with the battery pack and it was free. The blade is jammed on the body and can't get it off. The first time I used it, After about 15 minutes of on off work, trimming grass and asian jasmine, The tool acted like the battery was running down. I changed the battery to another fully charged battery, acted the same. Looks to me the blade is jammed somehow and I can't get it off. I'm taking it back to Home Depot and I am confident they will stand behind it, I just want to replace it.
Date published: 2020-08-09
Rated

1

out of

5
by
islanddean
from
Beyond useless
I have several small shrubs on my property and thought this unit would be the perfect size to tackle that job. I WAS WRONG! The battery and charger both work as they should and the balance of this unit is perfect but the blade would not cut thru hot butter. Im not sure if the blade is dull but it doesn't cut or trim at all...it pulls. Also...this unit seems grossly under powered. When the cutting blades are moving they seem very slow compared to the larger version. I have 11 different Ryobi tools and love them all except this one. Save your money.
Date published: 2019-08-01
Rated

5

out of

5
by
Ambrit
from
Love this trimmer!
I bought my trimmer 2 days ago.. Since I have other Ryobi tools, I bought the tools only without the battery pack. I put on the blades and went right to work. It's everything all of the positive reviews say it is. It did a great job, easy to use and light weight. The part I love, it's cordless. I don't think I have every gone an entire summer without someone slicing through a cord. My family is special that way. I get into making the perfect circle shrub, concentrating and before you know it , I have a sliced cord. I also have shrubs in the back of my yard. No more stringing cords together. The only thing I will have to worry about is keeping my battery charged. I'm thrilled.
Date published: 2020-07-31
Rated

5

out of

5
by
buttface
from
2910 performance
Just got the P2910 in yesterday and charged the battery. Got it ready and was happy with the weight. Light for a nice machine, but will it preform. On going to my gas trimming fence project i found i could the cutting bar to get closer to the fence line. I was surprised to see how strong it was and kept up its speed. You still have to leave the real big stuff to a larger trimmer, but the 2900 did the job i needed to get close. Hooked up the Shear blade and attacked the grass at the bottom of the fence line. Worked ad advertised. Very impressed with the 2900. Just remember to keep oil on the blades.
Date published: 2019-06-09
Rated

5

out of

5
by
Garys10
from
Works Great
Bought this for my wife (our "landscaper") so she could stop using her hand scissors. And she loves it. Light weight, lots of power and easy for her to change attachments. I already had many Ryobi tools and batteries, so this combination was good for us.
Date published: 2019-06-25
Rated

5

out of

5
by
ynottony
from
Why'd it take so long for someone to come up with
The versatility of these shears are phenomenal. I really was looking for a hedge trimmer, problem for me is that I only have a few hedges of the type that need trimming. I hated the thought of spending $100.00+ for something I'll use a few times a year on just 3 hedges. When I saw this Shear/Shubber... Wow! Perfect. When I used it the first time, just awesome. Plenty of power, shears are sharp and not sloppy and cut cleanly, and best of all very, very light and easy to use. Ryobi tools just continue to impress me, especially at the price point they're sold. Just can't go wrong.
Date published: 2019-06-24