+7
18V ONE+™ 7 1/4 Miter Saw with Laser
Model: #P551
+7
The RYOBI® 18V ONE+™ 7-1/4 in. Miter Saw is designed for bench and stationary use and is powered by the any 18V ONE+™ battery. This powerful saw offers miter angle stops at 0, 15, 22.5, 31.6 and 45 degrees to both the left and right to help you handle a wide variety of cutting jobs. The saw can cut through a maximum thickness of 1-1/2 in. and features a laser guide to help you achieve precision. The 18V ONE+™ Miter Saw is sold as a bare tool, allowing you to build on your ONE+™ collection without spending additional money on batteries and chargers with each tool purchase. Best of all, like every RYOBI® 18V ONE+™ blue or green tool, this Miter Saw works with any 18V ONE+™ battery. Upgrade to lithium-ion or LITHIUM+™ batteries for lighter weight and better performance.
Features
Cutting Capacity
Up to 2X4 cutting capacities and 4-1/4" cross cut capacity and built-in 9 ball detent stops at the most common miter cutting angles.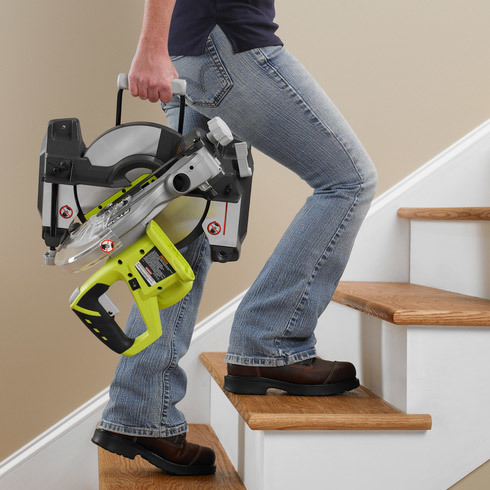 18V Motor
The 18v motor makes this saw extremely compact and light weight but great for a variety of small cuts. The motor also has a spindle lock for quick and easy blade changes.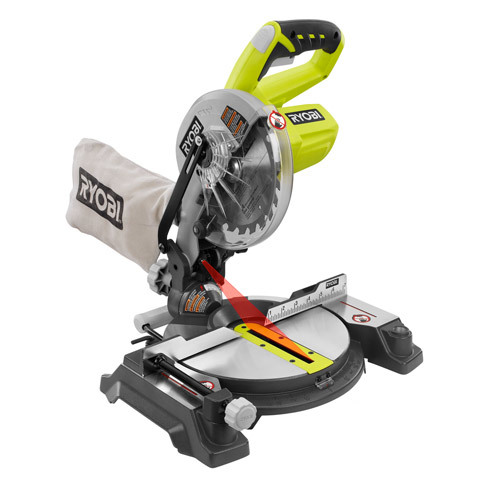 EXACTLINE™ Adjustable Laser
EXACTLINE™ adjustable laser alignment system accurately aligns the cut line with blade. The saw has an adjustable Bevel from 0°–45° with adjustable positive stops at 0°, 45°.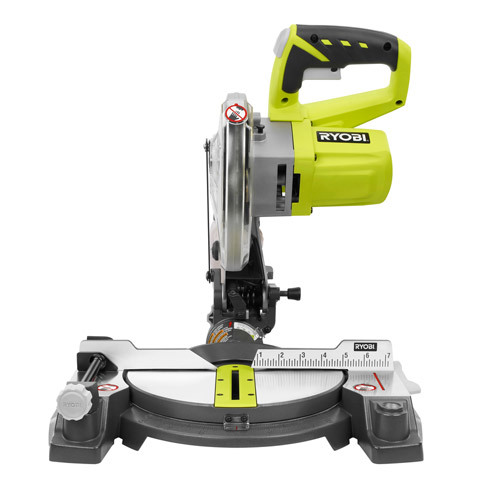 D-Handle
Ergonomically-designed horizontal "D" handle with overmold for added comfort.
Specifications
Battery: 18V (not included)
Motor Speed: 4,500 r/min. (RPM)
Dust Port: 1-1/4"
Blade Arbor: 5/8"
Blade Diameter: 7-1/4"
Cutting Capacities:
-Miter and Bevel at 0° = 1-1/2" x 4-1/4"
-Miter at 45° and Bevel at 0° = 1-1/2" x 3"
-Miter at 0° and Bevel at 45° = 1-1/2" x 3-1/2"
-Miter and Bevel at 45° = 1-1/2" x 3"
Tool Weight: 15 lbs.
Includes
P551 Compound Miter Saw with 24T Carbide-tipped Blade
Blade Wrench
Dust Bag
Work Clamp
Carrying Handle
Operator's Manual
Reviews
18V ONE+™ 7 1/4 Miter Saw with Laser