+7
18V ONE+™ 2 Gallon Chemical Sprayer WITH 2AH BATTERY & CHARGER
Model: #P2830A
+7
For the perfect union of convenience and versatility, the RYOBI ONE+™ 2 Gallon Chemical Sprayer sprays up to 20 tanks per charge with no pumping required. Featuring an adjustable spray nozzle, detachable 2 gallon tank, and cap that doubles as a measuring cup, this product is completely efficient from prep to clean up. For additional convenience and the tool comes with a 2.0 Ah Lithium-Ion Battery and is backed by a 3-Year Warranty.
Features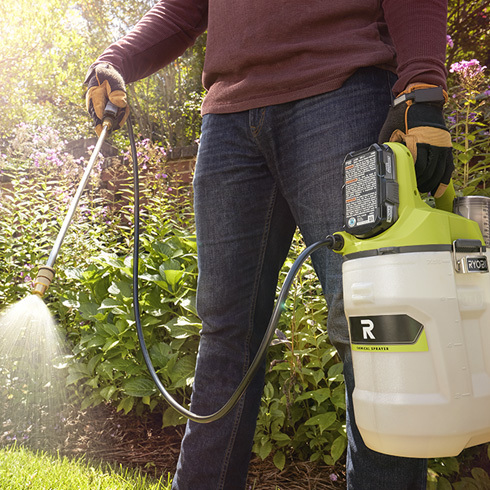 Sprays 20 Tanks Per Charge
No Pumping Required
Translucent 2 Gal. Detachable Tank For Easy Fluid Reference
On-board Measuring Cap Cup
Durable Adjustable Brass Nozzle
Specifications
Power Source: 18V Lithium-Ion Battery
Tank Size: 2 Gallon
Pressure: 45 PSI
Tank Material: High Density Polyethylene
Hose Length: 4 ft.
Nozzles: Adjustable
Weight: 4.5 lbs.
Includes
18V ONE+™ 2 Gallon Chemical Sprayer
Spray Wand
Replacement Seals
Measuring Cap
Removable 2 Gallon Tank
Carrying Strap
18V Lithium-Ion 2.0 Ah Battery
18V Lithium-Ion Battery Charger
Operators Manual
Reviews
18V ONE+™ 2 Gallon Chemical Sprayer WITH 2AH BATTERY & CHARGER
18V ONE+ 2 Gallon Chemical Sprayer Kit
is rated out of
5
by
395
.
Rated

5

out of

5
by
TXCarl61
from
Perfect size
I recently purchased this 2 Gal size as it is not too small as to have to repeatedly have to refill but also fits comfortably by my feet if I am on my mower or tractor allowing me to "Spray-n-Go". The handle cradle, stainless wand, measuring cup/cap, and removal tank are well thought out features.
Date published: 2023-05-17
Rated

5

out of

5
by
best1
from
Saves me time and money!
Purchased last year during the summer. Have used more times than I can count. We own rentals, so weeds...check, grass feeding.....check, bug repelling....check, even use it for carpet cleaning by misting the soap mix on the carpet and using our carpet cleaning vac to rinse off. Faster, better, and cheaper. We have a garden as well....it's perfect for that maintenance also. I have 4 hand pump sprayers available if anyone wants one.........
Date published: 2023-05-16
Rated

5

out of

5
by
MartinRCDC
from
Gets the job done fast
Great sprayer. Use it for the outdoor weed killer and bug spraying and really no fuss Quick and easy and saves money not having to buy the spraying containers to get the job done.
Date published: 2023-05-14
Rated

5

out of

5
by
Pop Wagner
from
Saved me hours of time
Since the recent rains in SoCal weeds have been popping up in our backyard like...Weeds??? Was getting taken over. Needed to spay some weed killer fast before we couldn't use our backyard this summer. I have the 1-gal tank and the 2-gal tanks. Tried the 1-gal tank and the pump. Worked perfectly. My first time using it since I got it. But I had a lot more to do so pulled out the 2-gal and mixed up my weed killer (found out always put the water in first then pour in the chemical...foam city first time) and used the filler neck on the tanks...by the way great idea. Put on the pump...hit start and knocked out the rest of the backyard in less than an hour. The spray pressure was strong, and the weight of the tank was great. I have a bad left shoulder from an accident and I thought for sure holding 2 gallons of liquid was going to hurt. Barely knew it was there. If I had to use a hand pump it would have been an all-day job. Ryobi 18v 2ah battery was great too. Had plenty of juice to do the job and some left in the battery when I was done and cleaning up. Love my new pump and thinking about what to spay next. Thank you, Ryobi.
Date published: 2023-04-30
Rated

5

out of

5
by
sonjarose
from
Easy to use
Nice to have 2 tanks. One for overall weed killer and one for lawn and pests. Works great and easy to use.
Date published: 2023-04-27
Rated

5

out of

5
by
Dougiefresh94
from
Work saver, user friendly
This little Jewel of equipment has saved me many of times bending over and pumping. I'm older now and looking for something with less work. Awesome product, A+ I would recommend this product to all my friends.
Date published: 2023-04-15
Rated

5

out of

5
by
Bertb
from
Makes life easier
I just bought this and it makes spraying for bugs easier work.
Date published: 2023-03-19
Rated

5

out of

5
by
imartinez
from
Works great
This chemical sprayer kit is awesome. Before I would use a 1 gal pump sprayer. Not having to pump every 2 minutes is the best thing about this sprayer. The battery is long-lasting. I have sprayed my front and back lawns (3,000 sq ft) twice on the same charge. I recommend this sprayer 100%.
Date published: 2023-02-27
Rated

4

out of

5
by
Pete M
from
Used once
Stopped spraying near the end. Flushed out hoses and now seems to be working again.
Date published: 2023-02-26
Rated

5

out of

5
by
Pavermaker
from
Easy to use
I bought my first one for spraying at our michigan home, Made spraying weed and grass killer and weed killer easy. I like it so much i bought this one for our florida home. No more hand pumping again.
Date published: 2023-01-04