---
we replaced our 2012 AC electric mower with new 2018 20 in. 40-Volt Brushless Lithium-Ion Cordless Battery Walk Behind Push Lawn Mower - was on sale for mothers day,
the old AC mower has a sharpened blade , but the paint on the underside failed and grass would stick to it. I was going to sandblast then repaint it, wife said save your time and get a new cordless. i was going to do the first spring mow with the old AC one then the RYOBI could take over. the 8" damp grass kept sticking to old mower and I was cutting in 3 passes. Wife got the RYOBI out it was set on middle setting and did a doughnut around me and walked away. I got the hint, work smart first, then hard.
The RYOBI with bag on is like a vacuum - the catch bag is packed. one charge lasts us 2-3 mows are yards 25 x 30 ft and 15 x 35 ft
a neighbor stopped by and took the old mower, he has some moss to mow. ;0)
Show More
---
---
Members Also Viewed
back to top?
Please confirm your email address.
Select some categories to pick the kinds of projects that show up on your home page:
Welcome to your RYOBI Nation quick start guide, a fast and easy way to see everything that's waiting for you!
Your feed shows the latest projects from the categories you've selected, right on your homepage!
Are you working on something awesome? Upload your DIY projects today, and share with other members.
We award monthly and annual prizes for the best projects, worth up to $2500 in RYOBI tools! That's a lot of hardware, and it could all be yours.
RYOBI Nation is a positive connection between people who are creating great things.
You can follow fellow members, like their projects, and comment to let them know they're doing a great job.
Come back to RYOBI Nation often to see what is new and to stay in touch.
If you're on a mobile device, don't forget you can add RYOBI Nation to your home screen for quick access to your project feed.
---
Yard work - got a new mower
by Wedge
Dec 21, 2018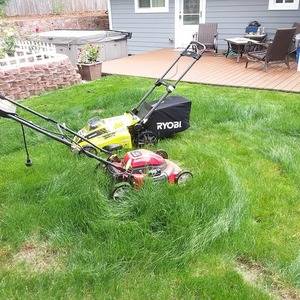 we replaced our 2012 AC electric mower with new 2018 20 in. 40-Volt Brushless Lithium-Ion Cordless Battery Walk Behind Push Lawn Mower - was on sale for mothers day, the old AC mower has a sharpened blade , but the paint on the underside failed and grass would stick to it. I was going to sandblast then repaint it, wife said save your time and get a new cordless. i was going to do the first spring mow with the old AC one then the RYOBI could take over. the 8" damp grass kept sticking to old mower and I was cutting in 3 passes. Wife got the RYOBI out it was set on middle setting and did a doughnut around me and walked away. I got the hint, work smart first, then hard. The RYOBI with bag on is like a vacuum - the catch bag is packed. one charge lasts us 2-3 mows are yards 25 x 30 ft and 15 x 35 ft a neighbor stopped by and took the old mower, he has some moss to mow. ;0)
Project Information

| | |
| --- | --- |
| Difficulty: | Easy |
| Categories: | Exterior Spaces, Other |

Tools Used

40V 20" BRUSHLESS MOWER WITH 5AH BATTERY & CHARGER