---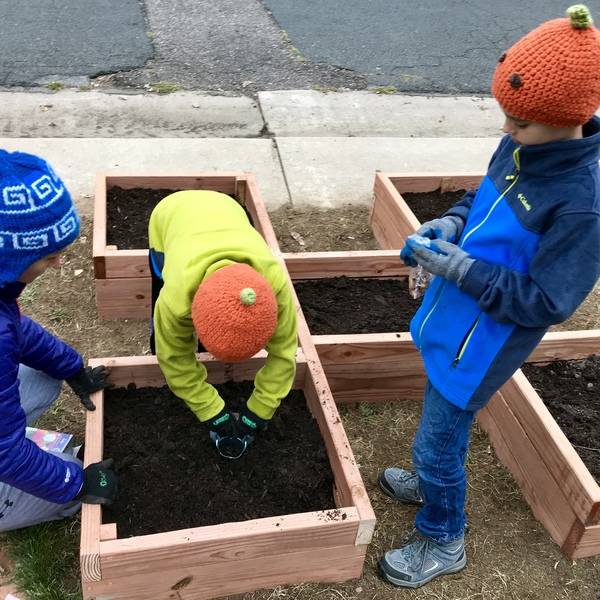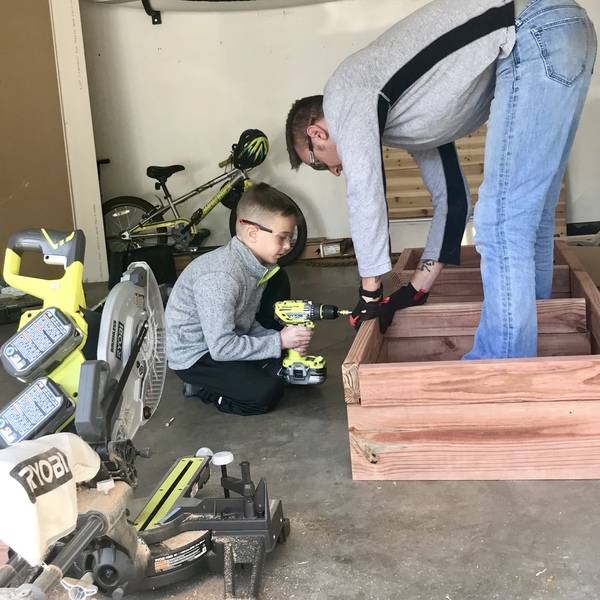 My wife allocated a 12x12 section of our front yard to our son after he expressed interest in growing flowers and food. In order to do that he needed garden boxes. He and I sketched out different ideas and broke the project down into two parts, fall and spring. This is the fall project - a 6x6 ft section with five 2x2 ft garden boxes. After getting some books from the library, he decided on planting bulbs this fall and will do veggies in the spring. It was a fun build and my oldest jumped in and helped wherever he could.
Tools used:
Brushless Hammer drill
One+one miter saw (dual 4ah batteries)
Brushless Impact driver (new for this project and my first ever dedicated driver)
3ah and smaller battery (whatever came with the Artic Cove bucket fan)
40v Expand-it cultivator
40v Blower
Materials:
2x4s
2x6s
Deck screws
Lessons learned:
12ft boards don't safely fit in my SUV
Need to buy a saw stand
Be more diligent about emptying the dust bag on saw or attach shop vac
Show More
---
---
Members Also Viewed
back to top?
Please confirm your email address.
Select some categories to pick the kinds of projects that show up on your home page:
Welcome to your RYOBI Nation quick start guide, a fast and easy way to see everything that's waiting for you!
Your feed shows the latest projects from the categories you've selected, right on your homepage!
Are you working on something awesome? Upload your DIY projects today, and share with other members.
We award monthly and annual prizes for the best projects, worth up to $2500 in RYOBI tools! That's a lot of hardware, and it could all be yours.
RYOBI Nation is a positive connection between people who are creating great things.
You can follow fellow members, like their projects, and comment to let them know they're doing a great job.
Come back to RYOBI Nation often to see what is new and to stay in touch.
If you're on a mobile device, don't forget you can add RYOBI Nation to your home screen for quick access to your project feed.
---
Garden box - Fall 2018
by noiwontsmile
Oct 21, 2018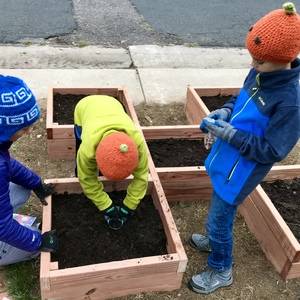 My wife allocated a 12x12 section of our front yard to our son after he expressed interest in growing flowers and food. In order to do that he needed garden boxes. He and I sketched out different ideas and broke the project down into two parts, fall and spring. This is the fall project - a 6x6 ft section with five 2x2 ft garden boxes. After getting some books from the library, he decided on planting bulbs this fall and will do veggies in the spring. It was a fun build and my oldest jumped in and helped wherever he could. Tools used: Brushless Hammer drill One+one miter saw (dual 4ah batteries) Brushless Impact driver (new for this project and my first ever dedicated driver) 3ah and smaller battery (whatever came with the Artic Cove bucket fan) 40v Expand-it cultivator 40v Blower Materials: 2x4s 2x6s Deck screws Lessons learned: 12ft boards don't safely fit in my SUV Need to buy a saw stand Be more diligent about emptying the dust bag on saw or attach shop vac
Project Information

| | |
| --- | --- |
| Difficulty: | Easy |
| Categories: | For Kids, Exterior Spaces |

Tools Used

EXPAND-IT™ CULTIVATOR ATTACHMENT
40V JET FAN BLOWER WITH 2.6AH BATTERY & CHARGER
18V ONE+™ BRUSHLESS HAMMER DRILL/DRIVER KIT
18V ONE+™ 10 IN. BRUSHLESS DUAL BEVEL SLIDING MITER SAW
18V ONE+™ BRUSHLESS 3-SPEED IMPACT DRIVER

Materials Used