---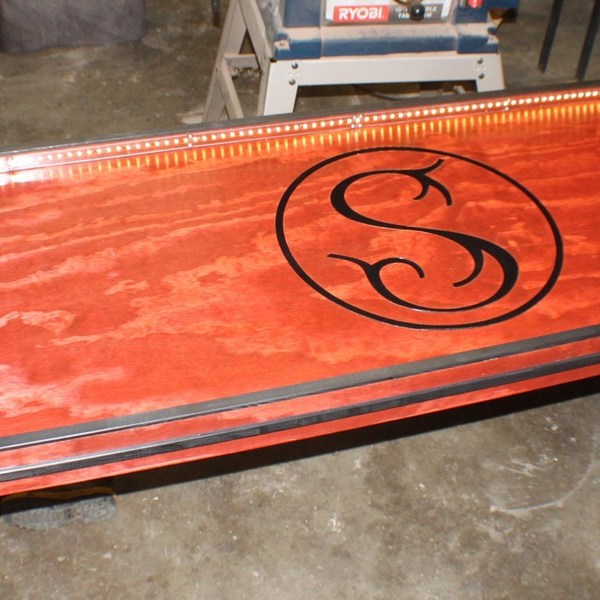 My Wife asked me to build her a game table for her birthday, so of course I said yes. I didn't feel that just a piece of plywood on legs would be enough. So i decided to get some Led light strips with a dimmer, nice cabinet grade plywood, stain, clear coat, folding table legs, vinyl decals and of course my collection of Ryobi tools. Then the project begins, cutting, sanding, routing channels for all the wiring, and staining all under the watching eye of my wife, curious to see the finished product. In the end she as well as friends and family were very pleased with the work, I even had a few ask me to build them a custom table. Table dimensions are 96" x 24" x 32"
Thanks Chris Schulberg
Show More
---
---
Members Also Viewed
back to top?
Please confirm your email address.
Select some categories to pick the kinds of projects that show up on your home page:
Welcome to your RYOBI Nation quick start guide, a fast and easy way to see everything that's waiting for you!
Your feed shows the latest projects from the categories you've selected, right on your homepage!
Are you working on something awesome? Upload your DIY projects today, and share with other members.
We award monthly and annual prizes for the best projects, worth up to $2500 in RYOBI tools! That's a lot of hardware, and it could all be yours.
RYOBI Nation is a positive connection between people who are creating great things.
You can follow fellow members, like their projects, and comment to let them know they're doing a great job.
Come back to RYOBI Nation often to see what is new and to stay in touch.
If you're on a mobile device, don't forget you can add RYOBI Nation to your home screen for quick access to your project feed.
---
Game Table
by Griff
Mar 31, 2012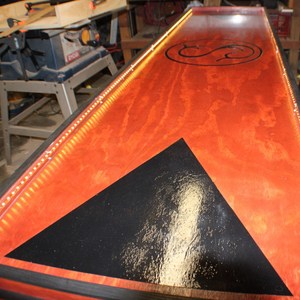 My Wife asked me to build her a game table for her birthday, so of course I said yes. I didn't feel that just a piece of plywood on legs would be enough. So i decided to get some Led light strips with a dimmer, nice cabinet grade plywood, stain, clear coat, folding table legs, vinyl decals and of course my collection of Ryobi tools. Then the project begins, cutting, sanding, routing channels for all the wiring, and staining all under the watching eye of my wife, curious to see the finished product. In the end she as well as friends and family were very pleased with the work, I even had a few ask me to build them a custom table. Table dimensions are 96" x 24" x 32" Thanks Chris Schulberg
Project Information

| | |
| --- | --- |
| Difficulty: | Easy |
| Categories: | Crafts & Decor, Furniture |