---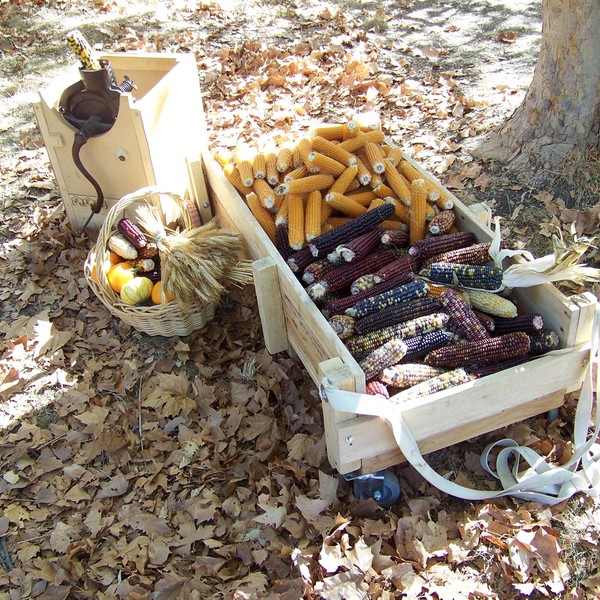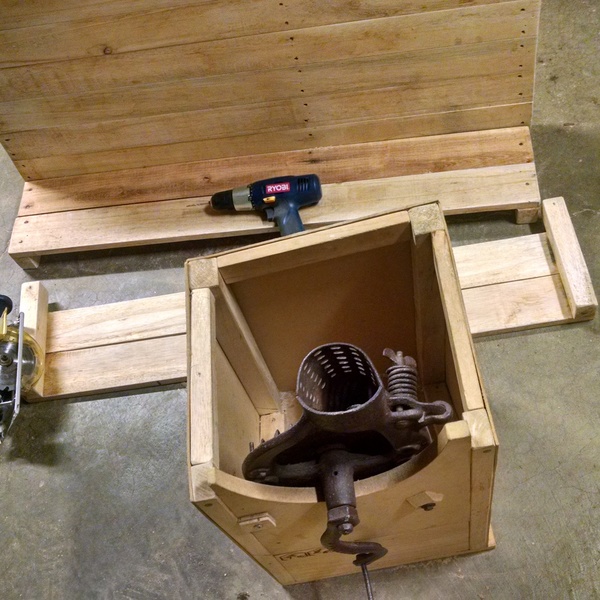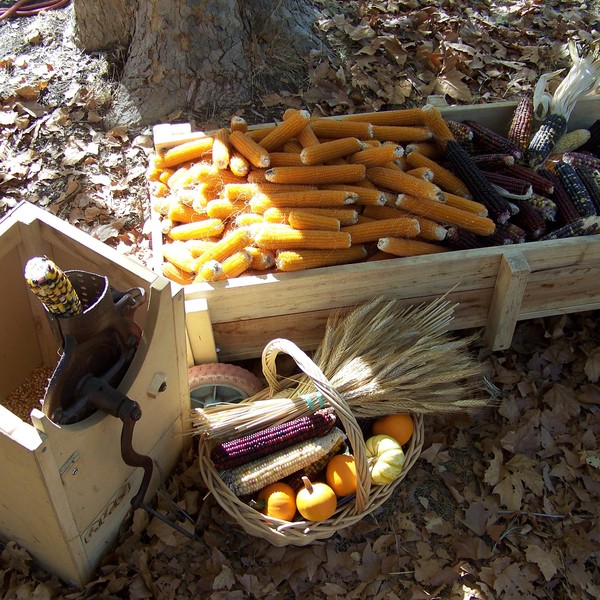 For a first project I wanted to create something unusual, fun and also practical, and so, using my Ryobi drill and circular saw combo, I set out to build a corn sheller box and a wagon that will carry it. A few weeks ago I towed my kids in their spacious new wagon with the sheller on top to a local corn harvest, where we piled it up with corn that we gathered. We even shelled some of the corn right there in the field! Needless to say, both worked like a charm.
My budget is limited, so I set a goal of building them without having to buy anything other than the 1800's cast-iron corn sheller that I found on an auction site for a bargain. I succeeded in building the sheller box and wagon entirely from reclaimed materials:
The box is made from discarded wood from a local maker space and the wagon from broken up crates a piano mover threw out. Even the canvas straps for hoisting the piano crates were reclaimed to use for pulling the wagon. Wheels off a broken tricycle went on the rear, and two slightly mismatched caster wheels I found went on front. Other than four bolts for the wheel posts, everything is mostly held together by old nails that we pulled, straightened and reused, and wood glue from left-over tubes that came with a bunk bed kit.
The sheller sits neatly at either end of the wagon. I made the wagon ends lower so that the handle can be cranked with good clearance while the box is on the wagon.
The kids learned a lesson in thrifty project construction, got a wagon they can ride in, and I got their help in building an emergency food supply :)
Show More
---
---
Members Also Viewed
back to top?
Please confirm your email address.
Select some categories to pick the kinds of projects that show up on your home page:
Welcome to your RYOBI Nation quick start guide, a fast and easy way to see everything that's waiting for you!
Your feed shows the latest projects from the categories you've selected, right on your homepage!
Are you working on something awesome? Upload your DIY projects today, and share with other members.
We award monthly and annual prizes for the best projects, worth up to $2500 in RYOBI tools! That's a lot of hardware, and it could all be yours.
RYOBI Nation is a positive connection between people who are creating great things.
You can follow fellow members, like their projects, and comment to let them know they're doing a great job.
Come back to RYOBI Nation often to see what is new and to stay in touch.
If you're on a mobile device, don't forget you can add RYOBI Nation to your home screen for quick access to your project feed.
---
Corn Harvest Wagon and Sheller
by beetleblaster
Oct 27, 2015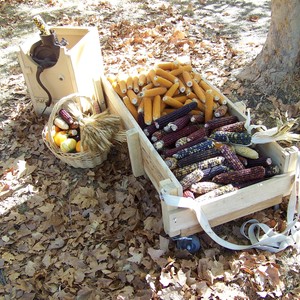 For a first project I wanted to create something unusual, fun and also practical, and so, using my Ryobi drill and circular saw combo, I set out to build a corn sheller box and a wagon that will carry it. A few weeks ago I towed my kids in their spacious new wagon with the sheller on top to a local corn harvest, where we piled it up with corn that we gathered. We even shelled some of the corn right there in the field! Needless to say, both worked like a charm. My budget is limited, so I set a goal of building them without having to buy anything other than the 1800's cast-iron corn sheller that I found on an auction site for a bargain. I succeeded in building the sheller box and wagon entirely from reclaimed materials: The box is made from discarded wood from a local maker space and the wagon from broken up crates a piano mover threw out. Even the canvas straps for hoisting the piano crates were reclaimed to use for pulling the wagon. Wheels off a broken tricycle went on the rear, and two slightly mismatched caster wheels I found went on front. Other than four bolts for the wheel posts, everything is mostly held together by old nails that we pulled, straightened and reused, and wood glue from left-over tubes that came with a bunk bed kit. The sheller sits neatly at either end of the wagon. I made the wagon ends lower so that the handle can be cranked with good clearance while the box is on the wagon. The kids learned a lesson in thrifty project construction, got a wagon they can ride in, and I got their help in building an emergency food supply :)
Project Information

| | |
| --- | --- |
| Difficulty: | Easy |
| Categories: | Crafts & Decor, Holiday, Other |

Tools Used

18V ONE+™ DRILL KIT
18V ONE+™ 6 1/2 IN. CIRCULAR SAW

Materials Used

RECLAIMED WOOD, NAILS AND GLUE, TRICYCLE WHEELS, TWO CASTER WHEELS, AND AN ANTIQUE CAST-IRON CORN SHELLER.