---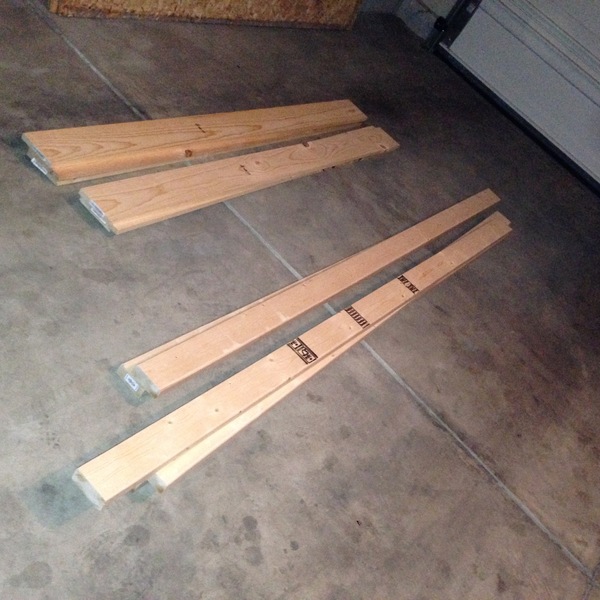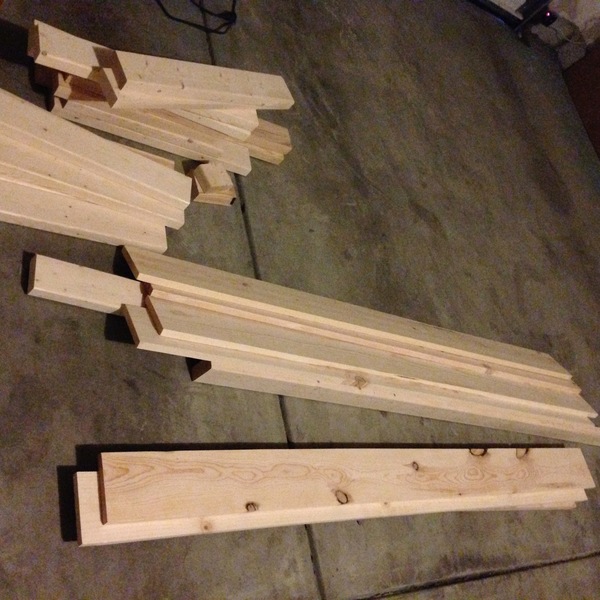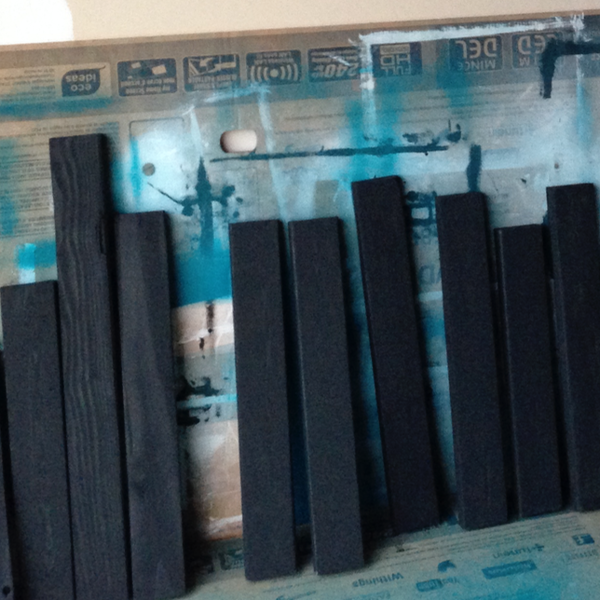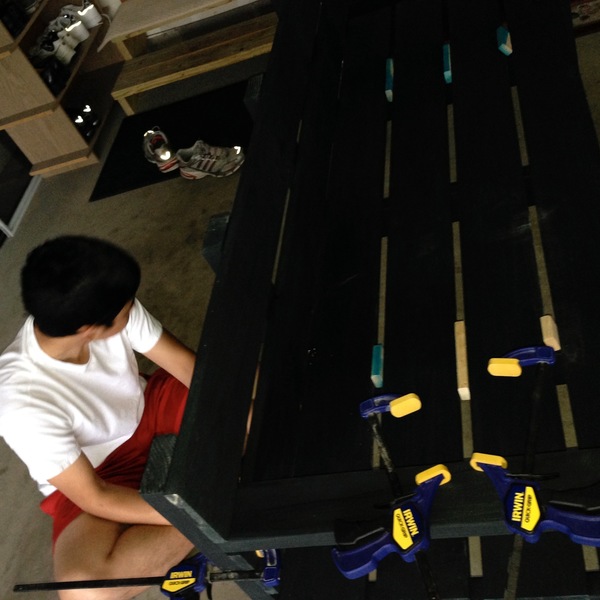 My husband and I bought our first home and were in need for furniture. We did not have a large budget and Pinterest led me to Ana White's website. I fell in love with her story and plans and thought, "if Ana can build this, I can too!" This porch bench was our second woodworking project and first LARGE build – it is massive and heavy. Ana's plans are easy to follow and require very few tools – we did not modify any of her design and only used a miter saw, drill, and sander. We made a few newbie mistakes but the screws were easy to reposition and hide with putty. The total cost for this project was less than $70 including all the wood/screws/putty/stain – with plenty of screws/putty/stain leftover.
We were surprised at how quickly this bench came together – it can be completed in a weekend, including drying time for the stain. What shocked us even more, was that we did not argue or get frustrated with each other during this build– definitely a test for us as newlyweds! This bench taught us some new skills and inspired our woodworking hobby. Our favorite pastime nowadays is to build furniture for our family and friends.
*Tip: stain all the pieces before assembly - it is much easier to do it first vs trying to stain inside the crevices
Show More
---
---
Members Also Viewed
back to top?
Please confirm your email address.
Select some categories to pick the kinds of projects that show up on your home page:
Welcome to your RYOBI Nation quick start guide, a fast and easy way to see everything that's waiting for you!
Your feed shows the latest projects from the categories you've selected, right on your homepage!
Are you working on something awesome? Upload your DIY projects today, and share with other members.
We award monthly and annual prizes for the best projects, worth up to $2500 in RYOBI tools! That's a lot of hardware, and it could all be yours.
RYOBI Nation is a positive connection between people who are creating great things.
You can follow fellow members, like their projects, and comment to let them know they're doing a great job.
Come back to RYOBI Nation often to see what is new and to stay in touch.
If you're on a mobile device, don't forget you can add RYOBI Nation to your home screen for quick access to your project feed.
---
Ana White Inspired Large Modern Porch Bench
by seanessa
Apr 08, 2017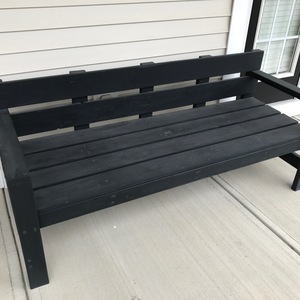 My husband and I bought our first home and were in need for furniture. We did not have a large budget and Pinterest led me to Ana White's website. I fell in love with her story and plans and thought, "if Ana can build this, I can too!" This porch bench was our second woodworking project and first LARGE build – it is massive and heavy. Ana's plans are easy to follow and require very few tools – we did not modify any of her design and only used a miter saw, drill, and sander. We made a few newbie mistakes but the screws were easy to reposition and hide with putty. The total cost for this project was less than $70 including all the wood/screws/putty/stain – with plenty of screws/putty/stain leftover. We were surprised at how quickly this bench came together – it can be completed in a weekend, including drying time for the stain. What shocked us even more, was that we did not argue or get frustrated with each other during this build– definitely a test for us as newlyweds! This bench taught us some new skills and inspired our woodworking hobby. Our favorite pastime nowadays is to build furniture for our family and friends. *Tip: stain all the pieces before assembly - it is much easier to do it first vs trying to stain inside the crevices
Project Information

| | |
| --- | --- |
| Difficulty: | Easy |
| Inspired By: | Ana White |
| Categories: | Furniture, Exterior Spaces |

Tools Used

18V ONE+™ 5 IN. RANDOM ORBIT SANDER
18V ONE+™ MITER SAW
18V ONE+™ LITHIUM-ION DRILL AND IMPACT DRIVER KIT

Materials Used

EXTERIOR WOOD STAIN
WOOD PUTTY
SCREWS
WOOD