---
My father and I Love Ryobi Tools....it has been a competition on who has more Ryobi tools in their garage! Well when my father started complaining that he didn't have a place for all his tools, I had the perfect idea for a fathers day gift...The Ryobi Tool Caddy. To build this project
I had to use almost all my Ryobi Tools. The hardest part was the edge banding on all the small rounded tool slots, but with multiple attempts and patience I was able to complete the work piece.
Thank you Ryobi and Happy Fathers Day DAD
Show More
---
---
Members Also Viewed
back to top?
Please confirm your email address.
Select some categories to pick the kinds of projects that show up on your home page:
Welcome to your RYOBI Nation quick start guide, a fast and easy way to see everything that's waiting for you!
Your feed shows the latest projects from the categories you've selected, right on your homepage!
Are you working on something awesome? Upload your DIY projects today, and share with other members.
We award monthly and annual prizes for the best projects, worth up to $2500 in RYOBI tools! That's a lot of hardware, and it could all be yours.
RYOBI Nation is a positive connection between people who are creating great things.
You can follow fellow members, like their projects, and comment to let them know they're doing a great job.
Come back to RYOBI Nation often to see what is new and to stay in touch.
If you're on a mobile device, don't forget you can add RYOBI Nation to your home screen for quick access to your project feed.
---
Ryobi Caddy
by tylerhouck_107007
Mar 01, 2015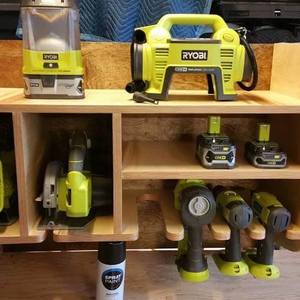 My father and I Love Ryobi Tools....it has been a competition on who has more Ryobi tools in their garage! Well when my father started complaining that he didn't have a place for all his tools, I had the perfect idea for a fathers day gift...The Ryobi Tool Caddy. To build this project I had to use almost all my Ryobi Tools. The hardest part was the edge banding on all the small rounded tool slots, but with multiple attempts and patience I was able to complete the work piece. Thank you Ryobi and Happy Fathers Day DAD
Project Information

| | |
| --- | --- |
| Difficulty: | Intermediate |
| Categories: | Garage |

Tools Used

18V ONE+™ DRILL KIT
18V ONE+™ RANDOM ORBIT SANDER
18V ONE+™ RADIO
18V ONE+™ ORBITAL JIG SAW
10 IN. SLIDING COMPOUND MITER SAW WITH LASER

Materials Used

3/4 INCH PLYWOOD, EDGE BANDING, POCKET HOLES, SPRAY ON VARNISH