Step: 1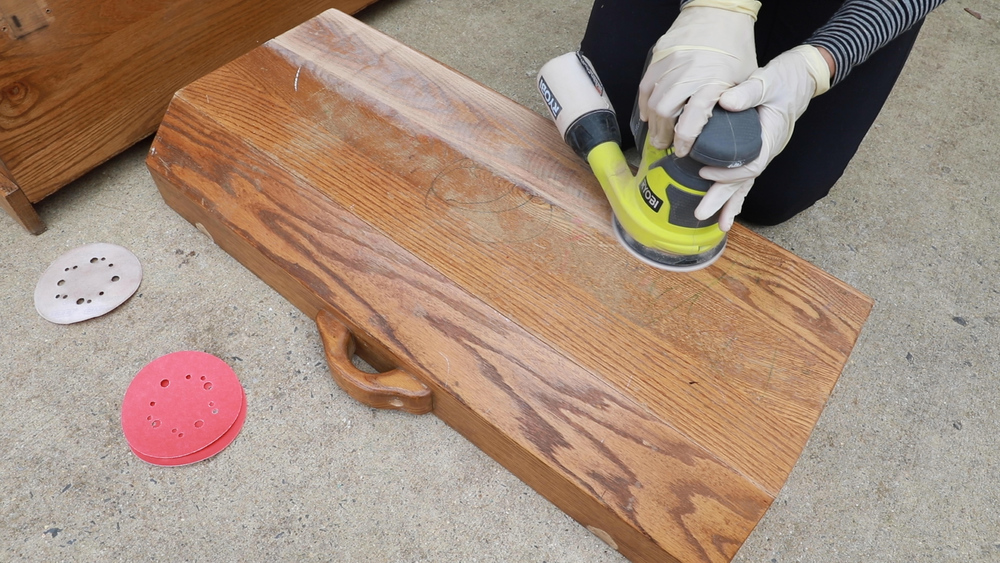 I started this project with the ONE+ orbit sander, 80-grit sandpaper. I have used my orbit sander to refinish plenty of projects, especially dresser tops. I typically start with 80 grit sandpaper, move to 150 grit, then finish with a 220 fine grit sandpaper. But with an orbit sander, you must move slowly to prevent swirly "pigtails" in your project. So I wanted something that would allow me to move a bit faster and more aggressive.
Step: 2
I switched to a more aggressive belt sander. I have the corded belt sander but RYOBI makes a brushless battery-operated one, which I MUST get my hands on! I love this sander. Gets the job done quickly and efficiently without chemical strippers.
Step: 3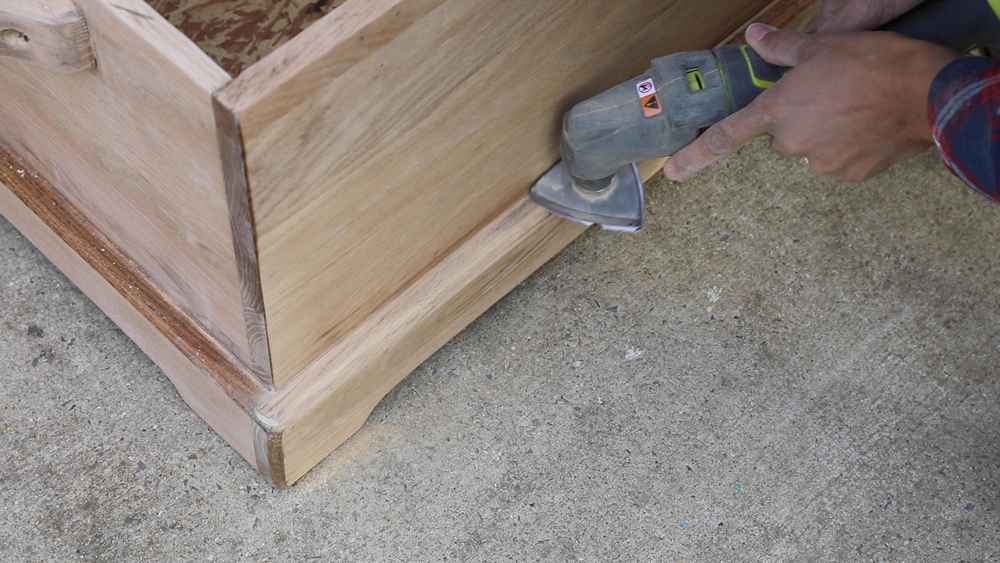 I used the Multi Tool with the triangular head attachment to sand the parts that were too small to be sanded with the orbit sander or belt sander.
Step: 4
Wood dye penetrates the wood instead of the pigment lying on top of the wood. I wanted to use this water-based dye so that I could use liming wax to highlight the grain of the oak. Wood dye would allow the liming wax to easily be applied to the grain.
Step: 5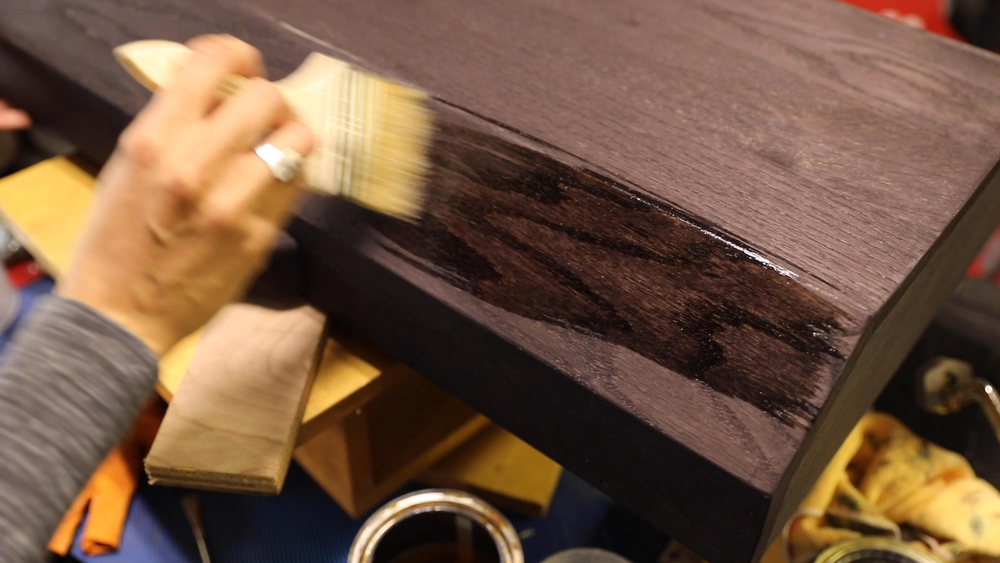 Sanding sealer helps seal in the wood dye to prevent it from water-based materials from causing the dye to rub off. After applying the sanding sealer, I waited about 1 hour and lightly sanded the chest.
Step: 6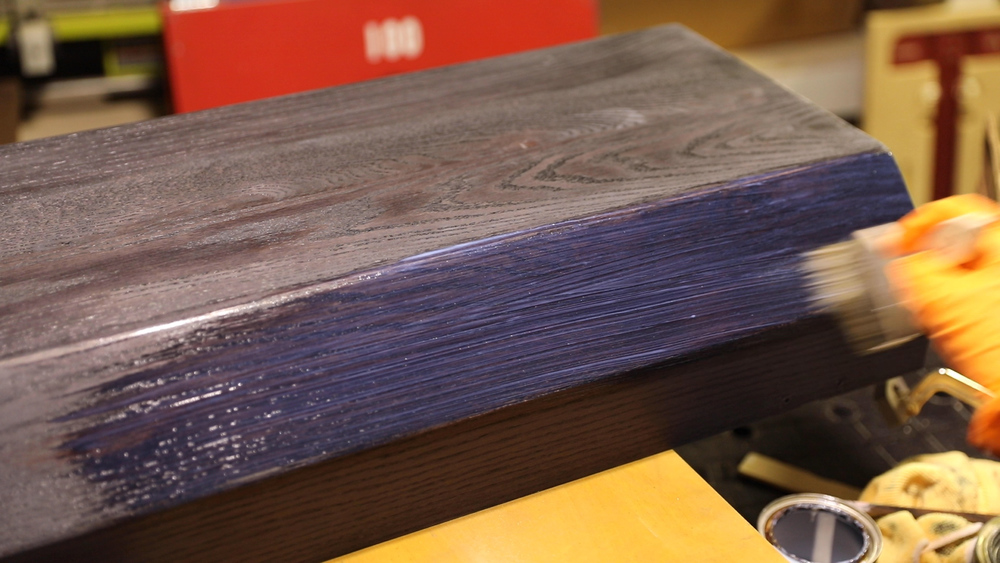 The topcoat seals everything in. Just one coat was used. I let it dry overnight before moving on to the next step: liming wax.
Step: 7
Liming wax highlights the grain of oak. Rub on, into the grain, then remove with clear wax. You'll need to go over it several time with clear wax to remove the white haze that liming wax leaves behind.
Step: 8
I created a metal monogram of my initials using a vinyl stencil, tin snips, aluminum sheeting. I nailed it down to the front of the chest with tiny 1/2" nails.
Step: 9
Rub n' Buff is perfect for changing the color of tarnished hardware instead of buying all new hardware. I went with silver because it complimented the ebony wood dye.
Step: 10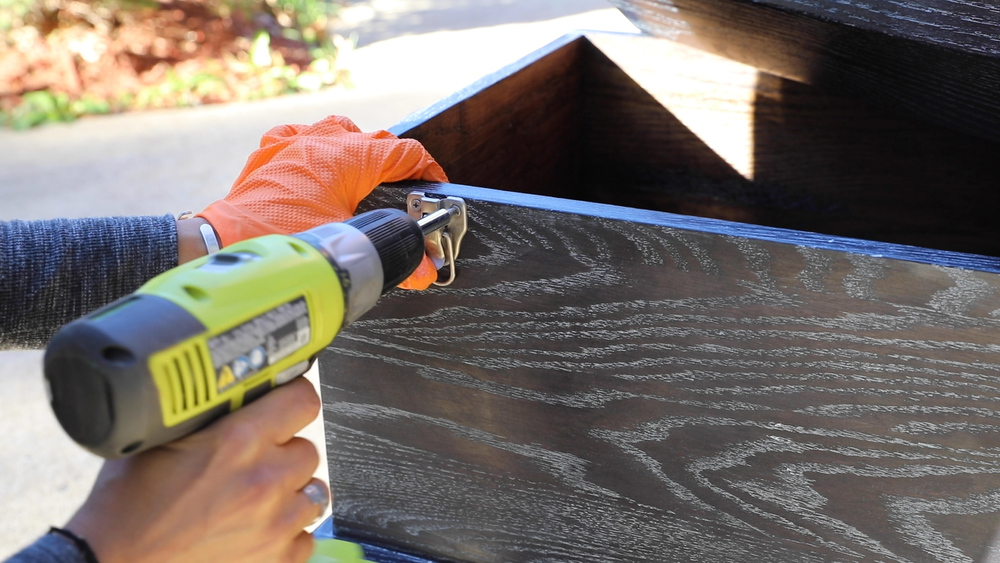 I reattached the hardware to the chest with my RYOBI drill. And that's it! The project took about 3-5 hours total (minus the overnight drying of the top coat). I had many of the tools and materials so I spent about $12 on the aluminum and nail.