Step: 1
CUT LUMBER I used a compound miter saw to cross cut my lumber to the appropriate lengths.
Step: 2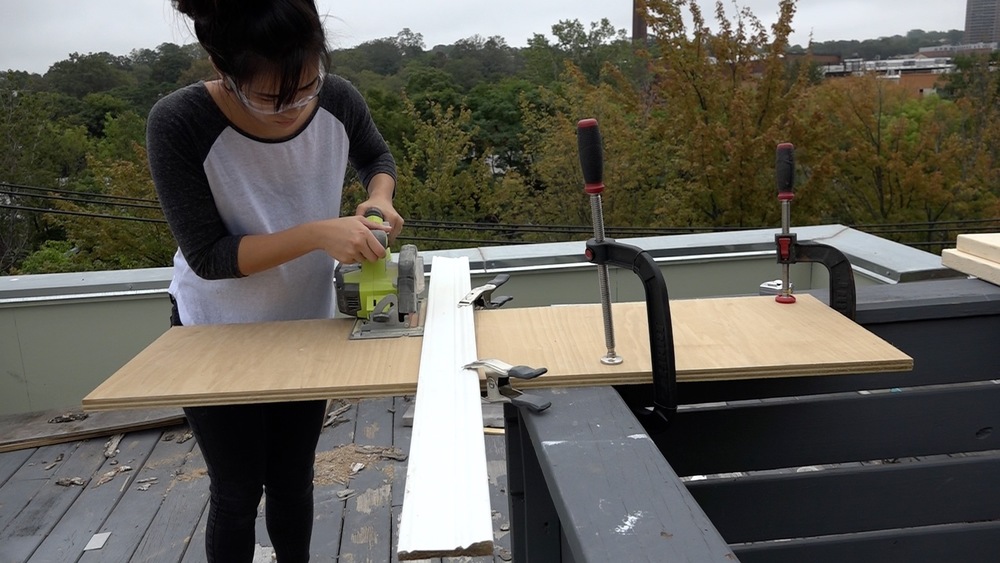 CUT PLYWOOD I used 1/2" thick plywood for the bottom of the box and lid. I used a circular saw to rip and cross cut my plywood. I clamped a straight edge to the plywood to make sure my cuts were straight. In the Youtube video, I cut the plywood a different way using a circular saw and compound miter saw, but the method above is more efficient and will only require a circular saw.
Step: 3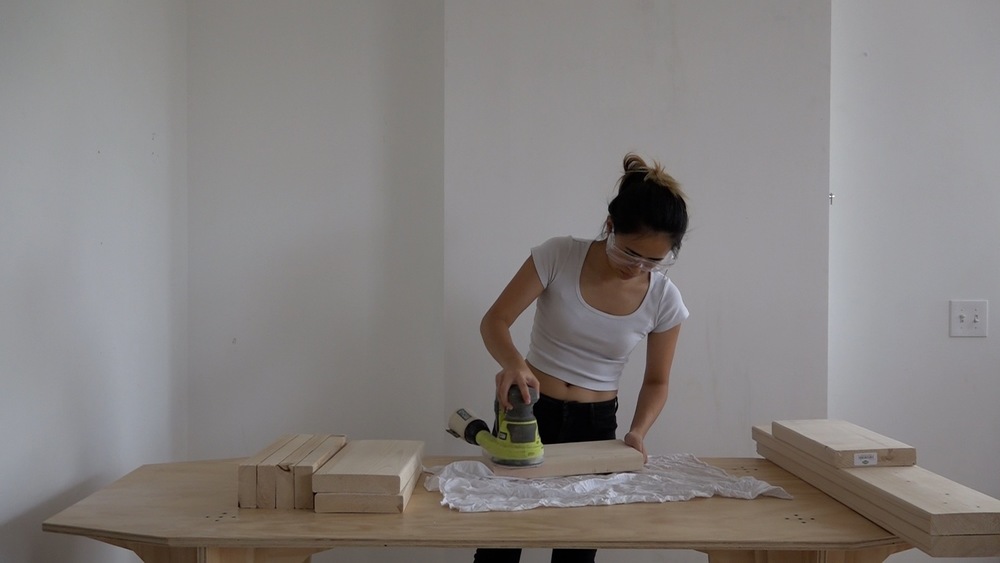 SAND AND SEAL WOOD I used my orbital sander to smooth out the surface of all the 2x8s. I finished the lumber with a coat of Minwax Polycrylic.  
Step: 4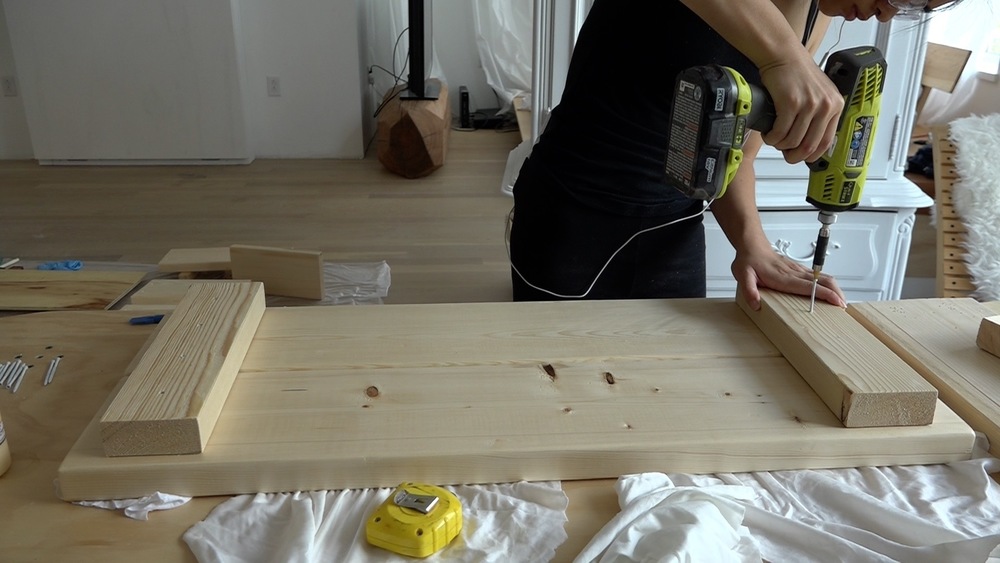 GLUE AND SCREW ON SIDE PANELS To create the front and back panels of the box, I placed two 2x8s together and screwed two 2x4s on top of the 2x8s to secure the panel. I placed scrap 2x8s on both ends and 1/2" plywood on the bottom to space out where the 2x4s needed to be screwed in. I finished off the box by attaching the rest of the 2x8s for the side panels.
Step: 5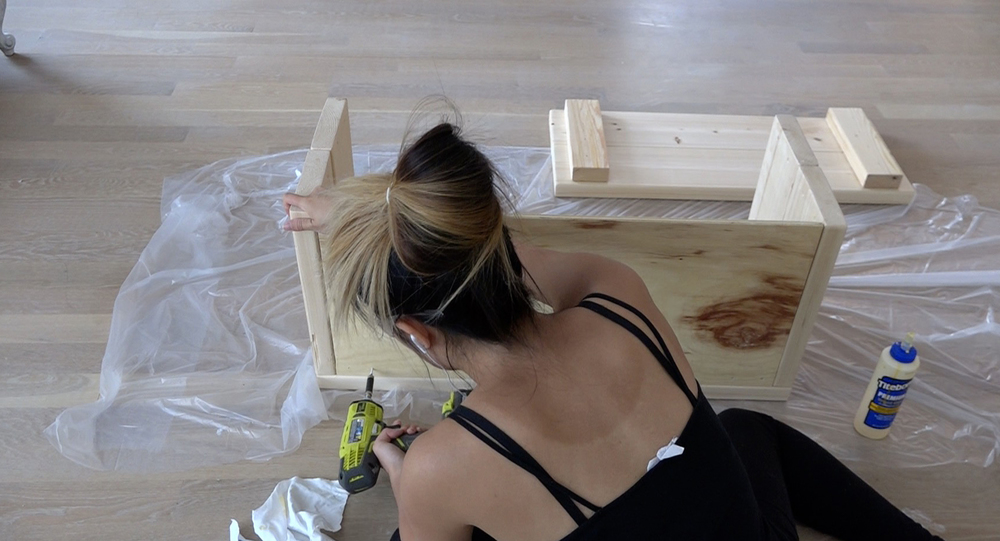 SCREW ON BOTTOM I placed the bottom sheet of plywood into the cavity and drove screws from the bottom into the 2x4s.
Step: 6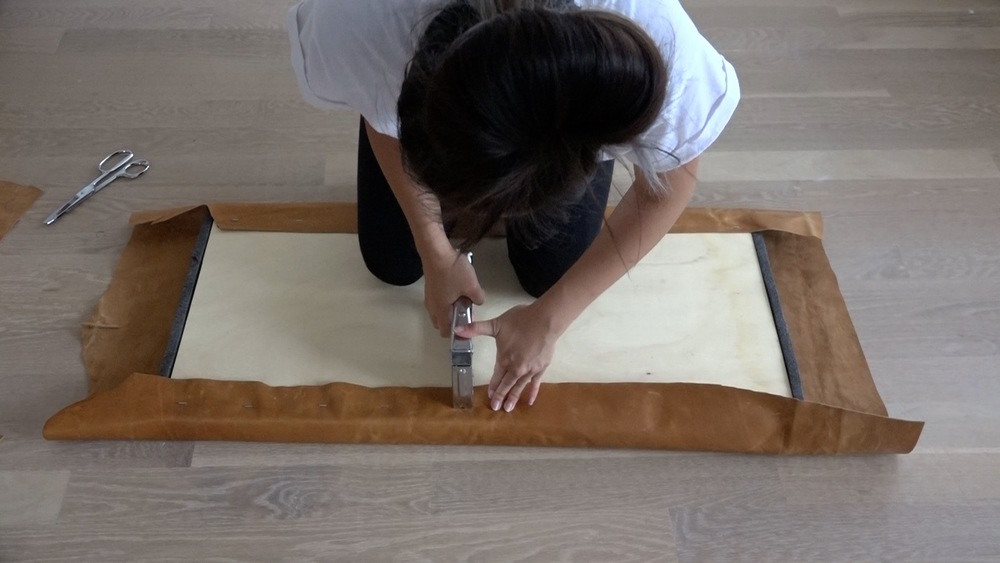 CUT AND MAKE CUSHION I cut the foam using an exacto knife. I used spray adhesive to glue everything together. I cut a piece of leather that was roughly 4-5" bigger than the foam to ensure that there was enough to wrap over the edges and to staple. I tugged on the leather pretty hard before stapling the second side of the leather onto the plywood.
Step: 7
ATTACH LID INSERT I applied some hot glue to hold the lid and cushion together. I put my weight on it to ensure everything was temporarily stuck together. I carefully flipped the lid over and drove screws into the two sheets of plywood. I found that this was the best way in getting the most accurate alignment between the box and lid.
Step: 8
ATTACH FEET I used my compound miter saw to cut feet for the bottom of the box to lift it off the floor just a little bit. I attached the feet with glue and screws, making sure not to screw in the same place where there were already screws.