Step: 1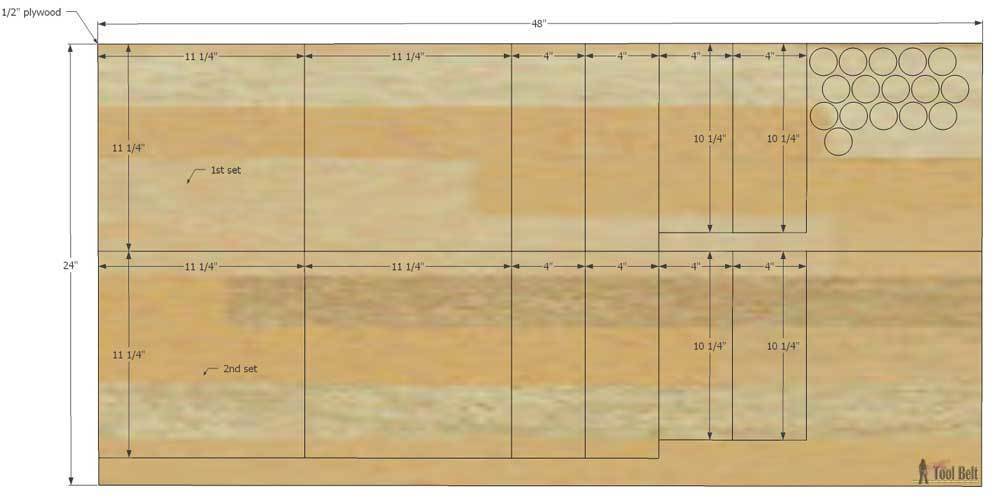 Cut List 2 – ½" x 11 ¼" x 11 ¼" plywood – Back/front 2 – ½" x 4" x 11 ¼" plywood – Sides 2 – ½" x 4" x 10 ¼" plywood – Top/bottom 8 – ½" x 1 ½" plywood circles – optional 1 – 3/16" x 10 5/8" x 4 ¼" acrylic/plexi – optional 2 – 3/16" x 10 5/8" x 3 ½" acrylic/plexi -optional Note: 1 piece of 2' x 4' plywood can make 2 portable LEGO totes.
Step: 2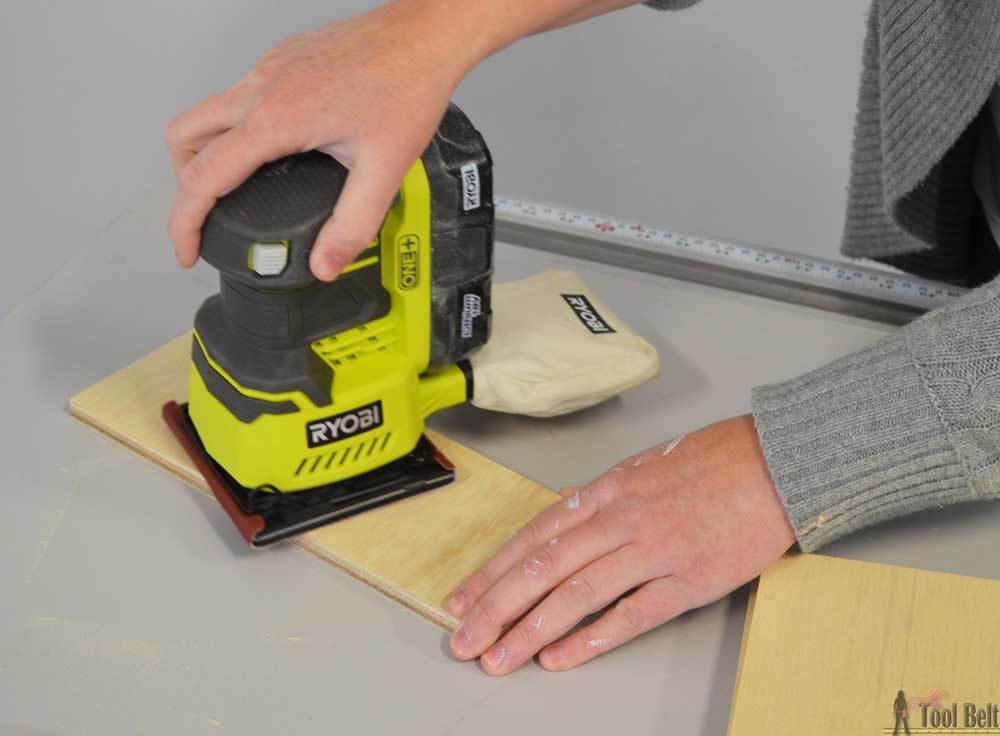 Cut all of the pieces for the portable LEGO tote. Sand the pieces of plywood smooth.
Step: 3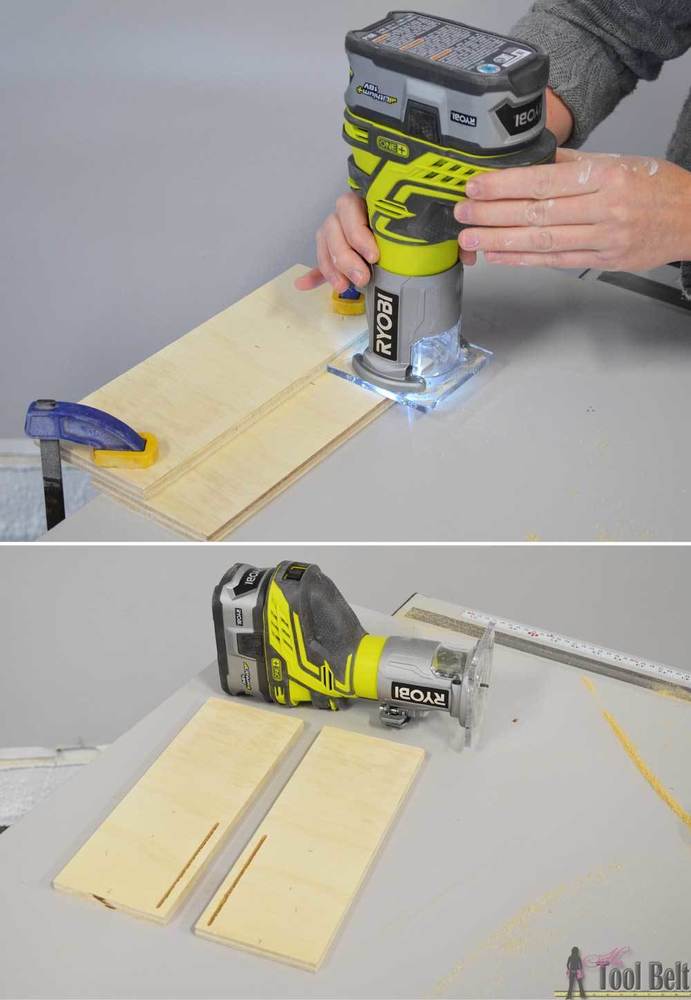 For the optional design with the lid coming down and plexi glass LEGO holder (red/blue version), use a router and small straight bit. Remember the sides must be mirrored. Route a line 4 ¼" long, ¼" from the edge and bottom. Route a line along the bottom piece ¼" from one side. For the optional design with the lid opening up and plexi glass dividers (aqua/purple version). Route 1 or 2 lines across each side piece as desired, ¼" deep. (Suggested at 3 ¾" and 7 ½") (not pictured)
Step: 4
Make sure the slots for the plexi glass will be at the bottom and front on the sides. Use wood glue and 1 ¼" brad nails to attach the back to the two side pieces.
Step: 5
Slide the plexi glass piece into place between the side pieces. Use wood glue and 1 ¼" brad nails to attach the top and bottom pieces to the sides and back.
Step: 6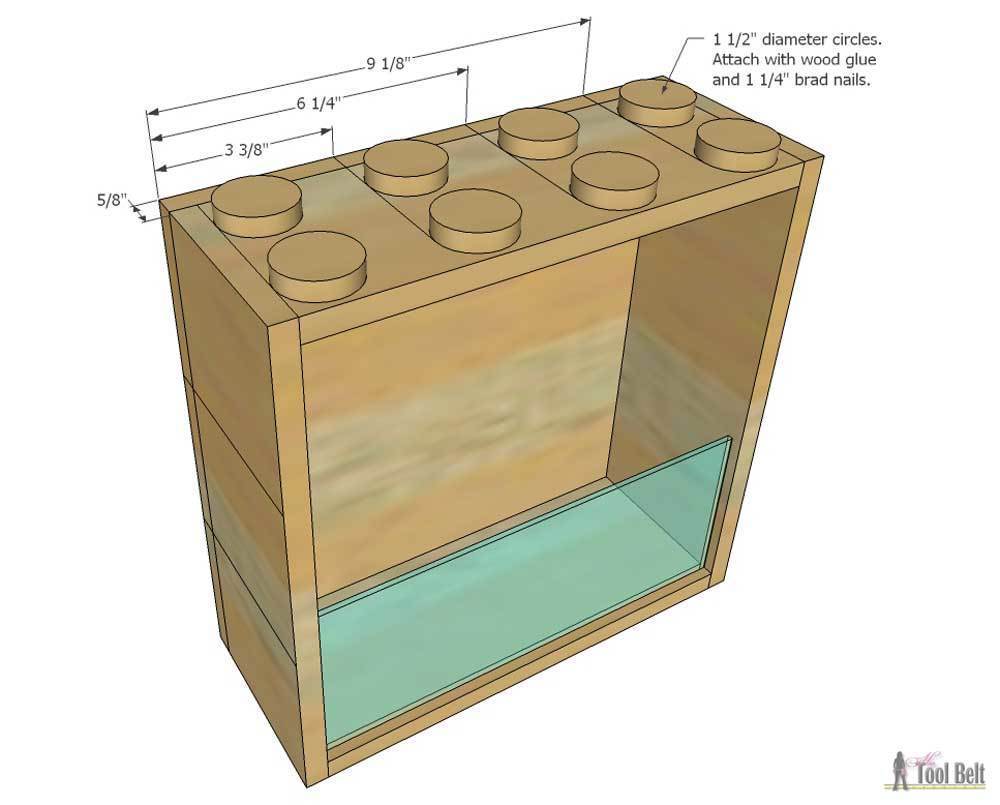 Optional – Use a hole saw (jig saw, scroll saw or band saw) to cut 8 – 1 ½" diameter circles. Space the 1 ½" circles across the top piece. Use wood glue and ¾" brad nails to secure each circle in place.
Step: 7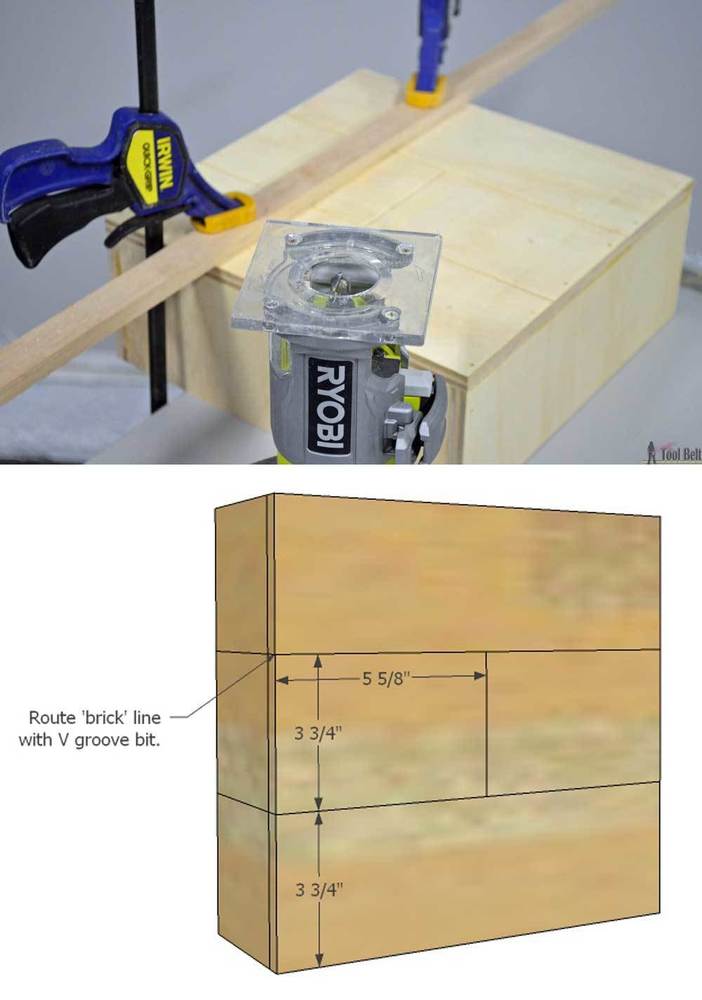 Optional – Clamp front piece onto box. Use a router and a V groove bit, set at about 1/16" high. Route a brick pattern into the box. Sand the box and paint or stain as desired.
Step: 8
Glue the LEGO base plates onto the back and front pieces. Dampen the plywood and the back of the base plate with water. Apply Gorilla glue and press the base plate into place. Make sure to center the base plate on the front piece, it must be at least ½" from each side so the lid will close.
Step: 9
Attach the front (or lid) to the bottom with 2 small hinges. Place a latch at the top to hold the front/lid closed. Drill two holes in the top the same diameter as rope. Tie a knot in one end and thread it through both holes and tie a knot in the other.