Step: 1
CUT PLYWOOD To start this project, I had my plywood ripped into 12" wide strips at home depot. I made my cross cuts using a Ryobi compound miter saw. Two cuts at 16" and two at 5". This project does not require a lot of plywood, and can be made from scraps.
Step: 2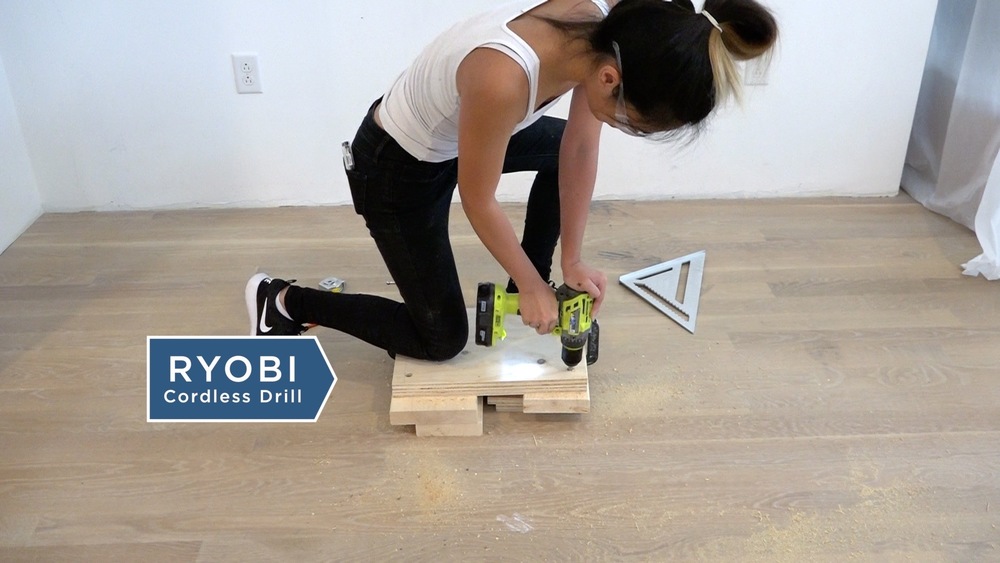 CLAMP & DRILL I sanded the pieces lightly and then proceeded to measuring out where I needed to drill my 5/8" holes for my copper pipes to fit. I measured exactly an inch from the edge and traced out the copper tube on the outside of the line. Using my 5/8" hole saw attachment on my cordless drill, I first clamped both the top and bottom pieces together in order to drill two identical holes on one side of the horizontal plane. I then unclamped it and finished drilling two more holes on the other horizontal plane for the bottom piece of plywood ONLY. I pre-drilled all my holes for my screws to prevent splitting.
Step: 3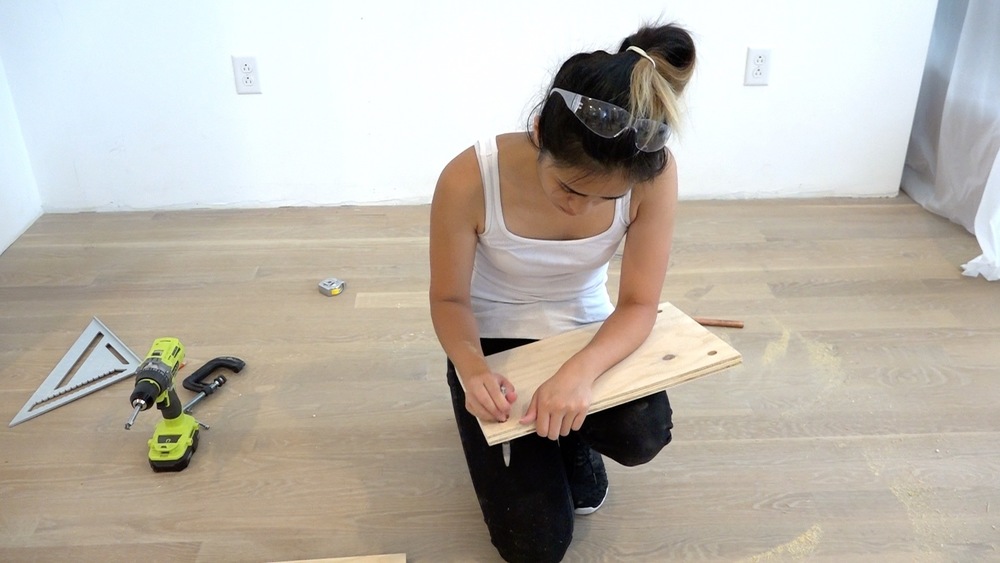 SAND & SEAL I made a sanding tool by wrapping sandpaper around a pen to sand the holes for the copper pipes to fit better in the holes. After wiping off all the saw dust, I sealed all the plywood with a Minwax Polycrylic.
Step: 4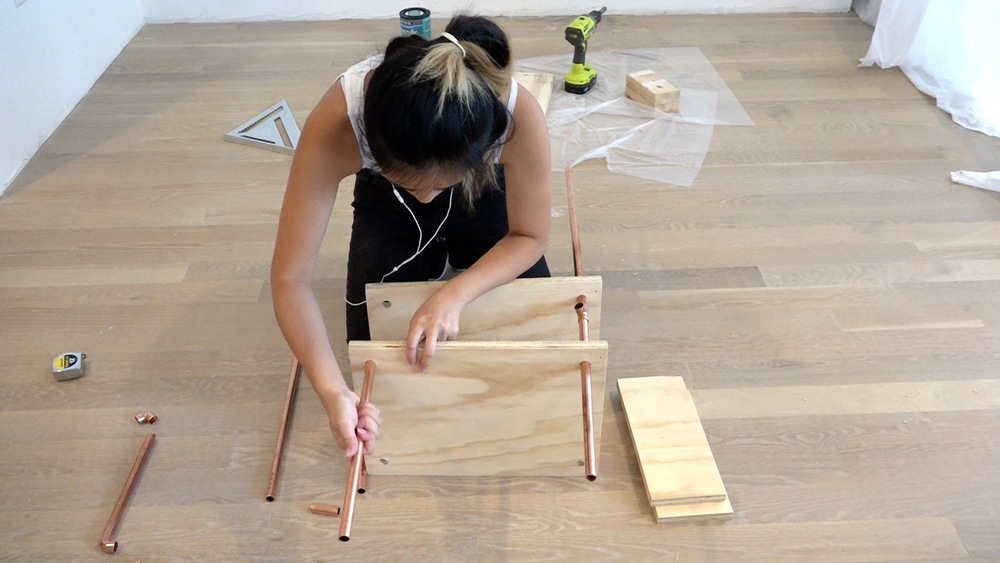 CUT COPPER TUBINGS Now this part may be confusing, due to all the cuts that need to be made. This however can be altered depending on how you want your legs to look length and height wise. I suggest, experimenting with the copper pipes and see what you like best. I cut my copper using my Tubing Cutter. This took a lot of trial and error so I really took my time with this step. I found it helpful to stand back once in a while to make sure everything looked squared from afar.
Step: 5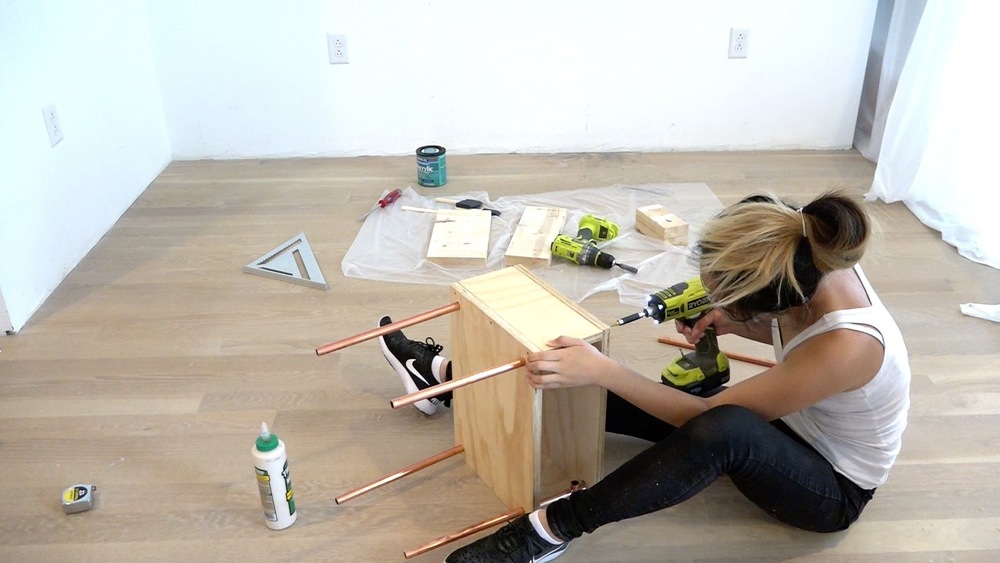 GLUE & SCREW PLYWOOD Once I figured out the copper legs, I moved on to gluing and screwing the plywood nightstand together. I started by pushing the side pieces in between the top and bottom piece of plywood. I then applied glue, gripped it firmly and drilled screws through my pre-drilled holes. I made my holes roughly 1/4" away from the edge of the nightstand.
Step: 6
ASSEMBLE & GLUE To ensure all the copper pipes were all in the right spot, I did a dry fit before proceeding to permanent attachment with gorilla glue. Before gluing, I threaded the wires for the light and phone charger through the proper pipes to where I wanted them to sit. I then, glued the copper pipes and fittings together. To help the gorilla glue bind better with the copper, I dampen one end of the attachment and applied glue on the other.
Step: 7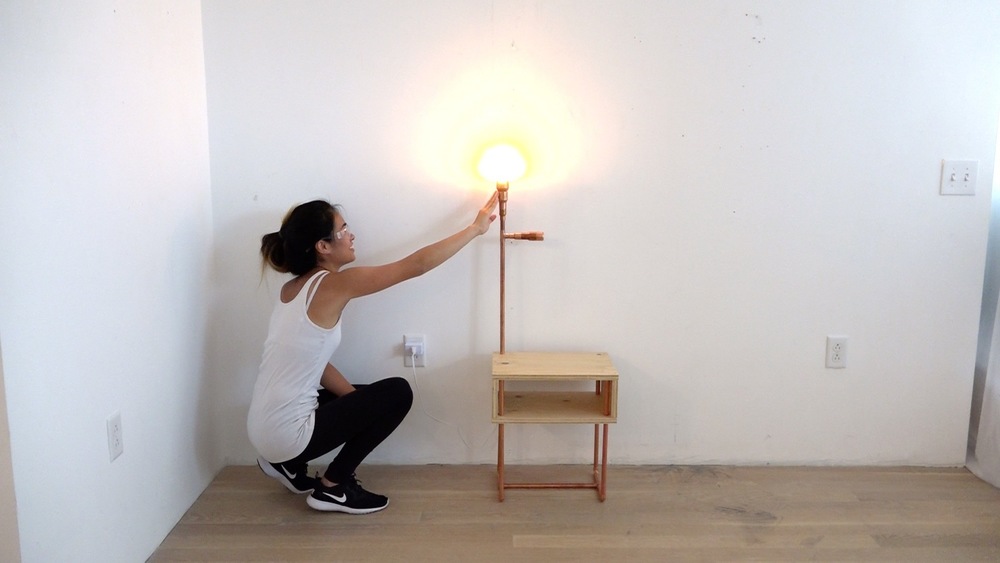 WIRE & FINISH Lastly, to protect the wires, I inserting a heat shrink wire wrap around the exposed wires and hovered a heat gun over it to seal it together. I finished the copper pipes by rubbing steel wool against it until it was nice and shiny. Make sure the heat shrink wrap installation is rated for this application.