Step: 1
Sand the pieces I used an orbital sander to sand down the different pieces.
Step: 2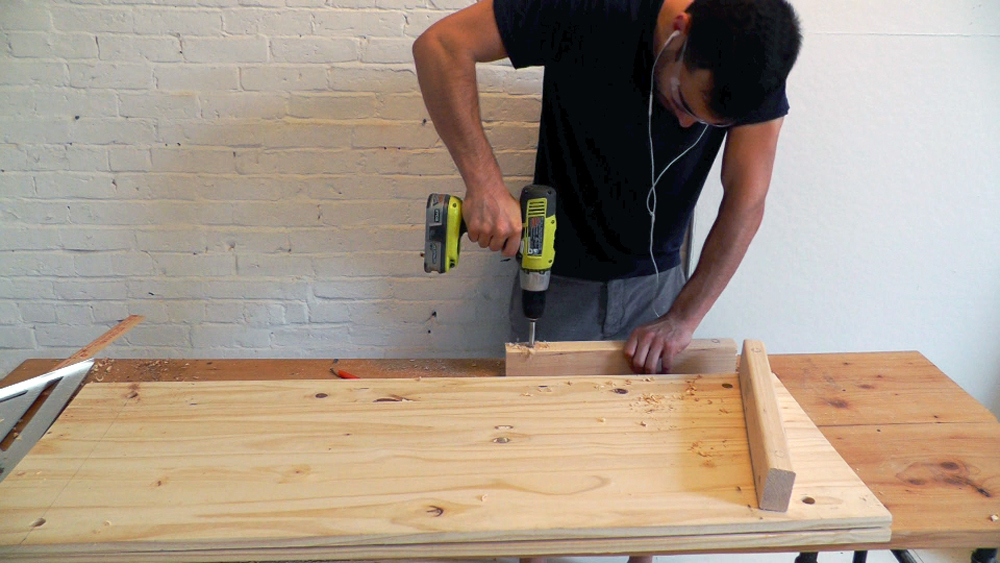 Assemble the Base I used 1 ½" and 3" screws to assemble the base
Step: 3
Mark hole locations I used a 90 degree connection to temporarily assemble one side of the conduit. I then used this structure to layout the hole locations on the pine boards
Step: 4
Drill more holes Drill holes through the dowels and the cross supports
Step: 5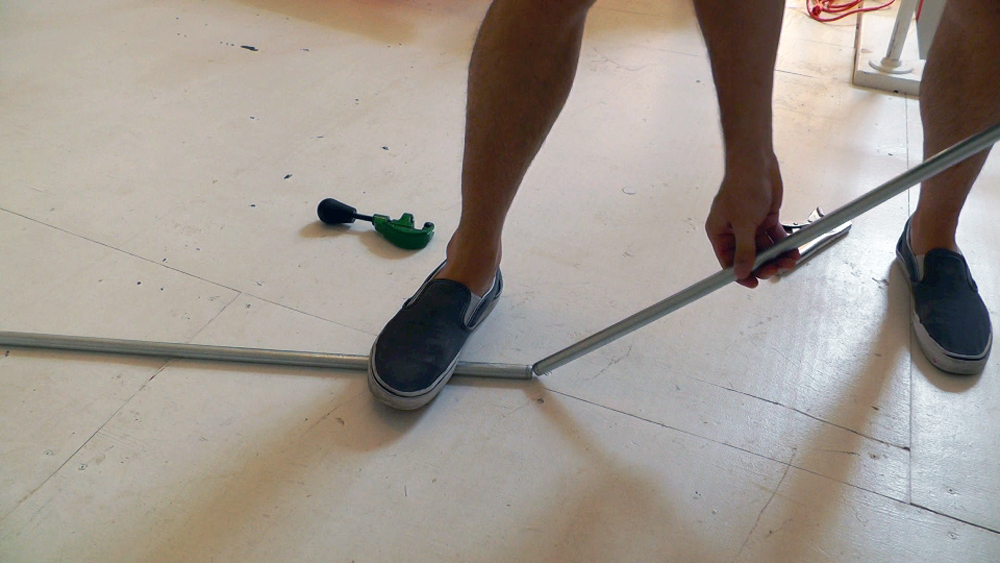 Cut the Conduit EMT conduit is one of my favorite DIY materials. It is cheap and easy to work with. I use a tube cutter and a pair of vise grip pliers to cut the 10' lengths into 5' pieces. Simply tighten the cutter around the conduit and use the pliers to grip the conduit. Twist the cutter around the conduit to create a score line. After a few rotations tighten the cutter and repeat. Be patient and make multiple turns cutting a little bit deeper each time. Once you have a nice deep score line all the way around you can cleanly break off the conduit. A hack saw or a metal cutting blade on the Ryobi Multi tool would also work.
Step: 6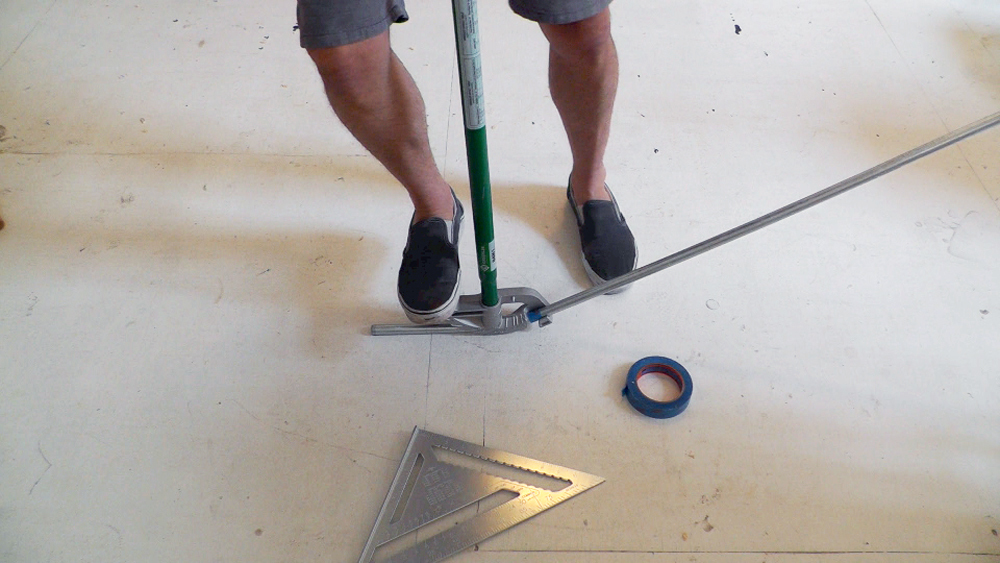 Measure, mark, and bend the conduit. I measured 11 inches from the end of the conduit and used blue painter tape to mark the location of the bend. I used a conduit bender to put a nice clean 45 degree bend in the conduit. If you don't have a bender you can try putting the conduit between a couple boards to bend it.
Step: 7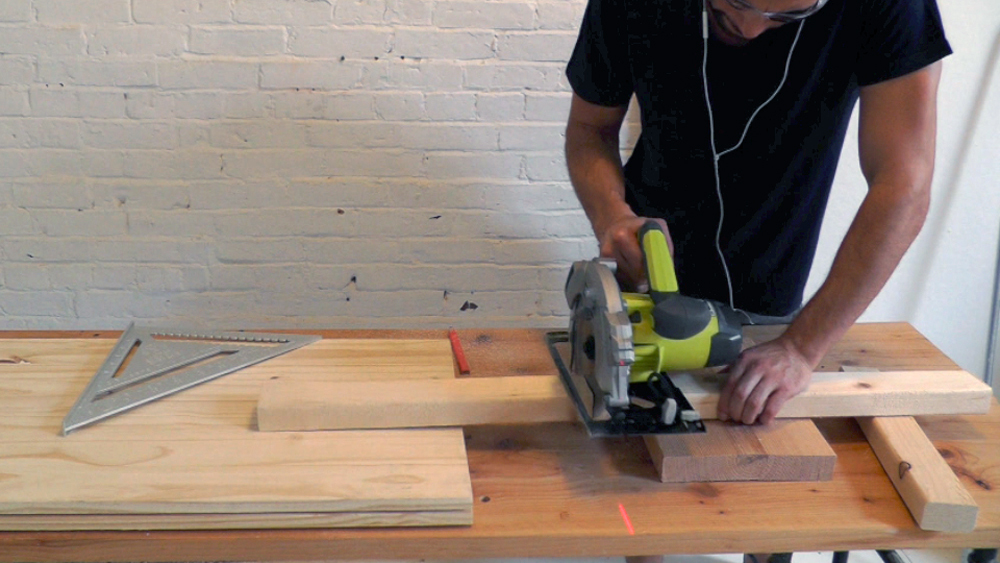 Cut Supports I cut up some scrap 2x3s to make cross supports that are the same width as the pine boards. I also cut 2 pieces of the 2x8 to this same width.
Step: 8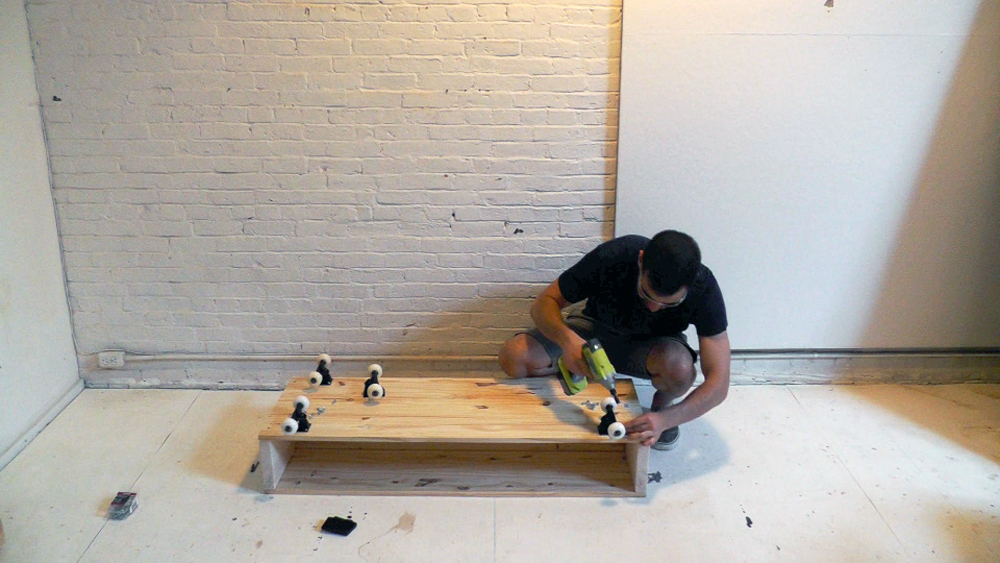 Add wheels I used skateboard wheels that I bought off of amazon.com but simple casters from home depot would work as a cheaper alternative. I located the wheels under the holes on the bottom pine board to keep the conduit from poking through.
Step: 9
Assemble the rack Insert the conduit into the holes in the base and the cross supports and then string the dowels on the conduit from the top. You may need to use the drill to make the holes a little bit bigger to make sure the pieces slide smoothly. If you didn't drill the cross supports perfectly straight they may give you some trouble. Using a 7/8" drill bit over sizes the hole and makes straightness less of an issue.
Step: 10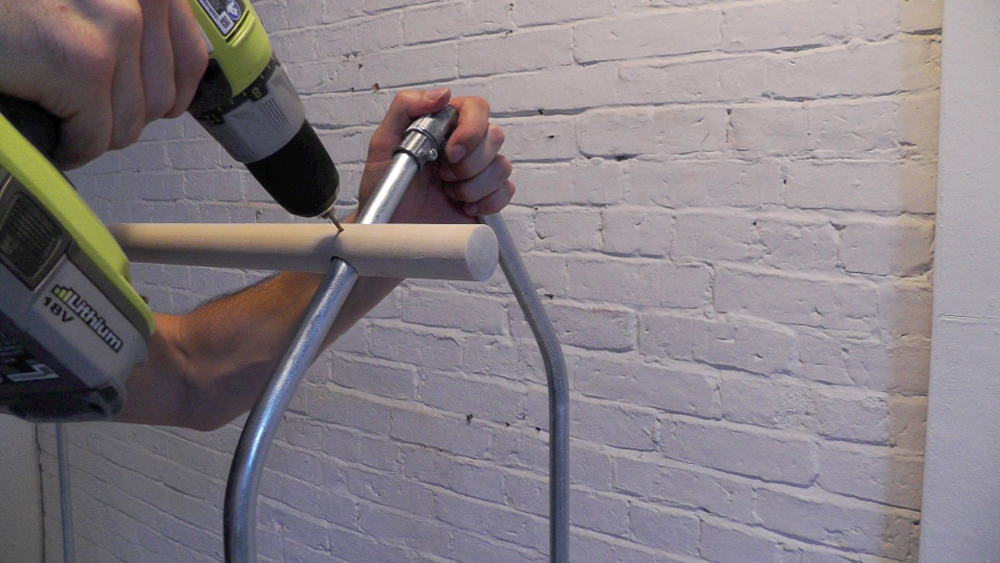 Fasten the Dowels Once I got the dowels in the right position I drilled a pilot hole through both the wood dowel and the metal conduit. I then used a single screw to fix the dowel into position. Repeat these same steps to fix the locations for the cross supports.
Step: 11
Add hooks You can add hooks or pegs to the cross supports.